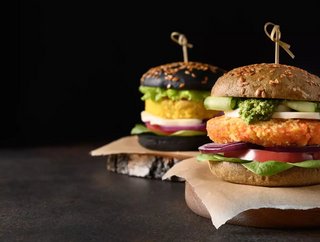 Vegan burger joint emerges as fast food challenger
The superbly-named Odd Burger – one of the world's first vegan fast-food chains – has announced its newest location in London, Ontario is nearly ready to roll and is scheduled to open mid-August. It takes the chain's total to four locations, with two additional restaurants set to open imminently.
Meanwhile, the company's Vaughan restaurant had its grand opening on August 1, and treated the neighbourhood to 99-cent non-dairy soft-serve ice cream all day and swag bags to the first 50 customers. Half of all profits from the grand opening  were donated to The Save Movement – a global grassroots organisation founded in Toronto that works to save animals, the climate and wider human health.
Odd Burger also announced progress at its Waterloo and Hamilton locations, with both expected to meet projected opening dates of August and September, respectively. All new stores incorporate the new Odd Burger brand and design.
"I appreciate our team for their dedication and hard work opening these new locations, especially considering the obstacles created by the pandemic," said Odd Burger co-founder and CEO James McInnes. "We have essentially tripled our footprint compared to just a few months ago, and the result is we've dramatically expanded the availability of plant-based food that is healthier, more humane, and more sustainable than typical fast-food options."
There are plans to open 20 locations by this time next year, including a flagship New York City restaurant in Manhattan.
Odd Burger Corporation is a chain of company-owned and franchised vegan fast-food restaurants as well as a food technology company that manufactures and distributes a line of plant-based protein and dairy alternatives to its locations. Odd Burger restaurants operate as smart kitchens, which use state-of-the art cooking technology and automation solutions. With small store footprints optimised for delivery and takeout, advanced cooking technology, competitive pricing, a vertically integrated supply chain along with healthier ingredients, Odd Burger is revolutionising the fast-food industry by creating guilt-free fast food.