[INFOGRAPHIC] PepsiCo reports strong and steady results in Q1 2015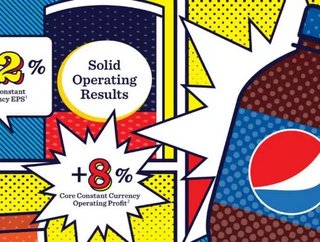 2015 is swiftly moving along, and its time for companies to take stock of performance and financial data for the first quarter of the year. PepsiCo post...
2015 is swiftly moving along, and it's time for companies to take stock of performance and financial data for the first quarter of the year. PepsiCo posted its Q1 earnings release today, and with organic revenue growth of 4.4 percent, things are looking good for the year so far.
"We are pleased with our performance for the first quarter of 2015," said PepsiCo Chairman and CEO Indra Nooyi in a statement accompanying the earnings release. "Our focus on innovation, brand-building, and marketplace execution, funded in part by our productivity initiatives, continues to drive strong, fundamental business performance. In the quarter, we generated 4.4 percent organic revenue growth and we once again expanded both gross and operating margins."
In addition to strong organic revenue growth, PepsiCo also boasted a 1 percent core EPS increase to $0.83, as well as a core constant currency EPS increase of 12 percent. But there have been some struggles as well: net revenue declined 3 percent, due in large part to unfavorable foreign exchange translations during the quarter. Nooyi addressed this issue as well in her statement, along with the steps that PepsiCo intends to take to mitigate and improve the issue throughout the year.  
"Foreign exchange translation and transaction headwinds persist. We have and will continue to take actions to manage through the current volatile macroeconomic environment by taking responsible pricing actions, tightly controlling costs, and optimizing our global sourcing to minimize and mitigate the impacts of the current foreign exchange challenges," said Nooyi. "At the same time, we will not let cyclical macroeconomic issues divert us from our focus to drive sustainable shareholder value creation. We intend to continue to invest across our markets and brands to generate organic revenue growth, drive greater efficiency and productivity, deliver attractive free cash flow growth and cash return to shareholders, and enhance our returns on invested capital."
Despite these challenges, the year ahead looks promising for PepsiCo. The company is optimistic for the performance of its many new product introductions across several brands, from new Mtn Dew and Naked Juice flavors to Frito-Lay "Cheetos Sweetos" and Quaker 3-Minute Steel Cut Oats. PepsiCo has also secured several lucrative partnerships, including a multi-year partnership with the NBA and pouring rights at 75 LiveNation event spaces, which will drive its brands even further. In all, PepsiCo envisions a 2015 that's on track to deliver on its financial targets and make its shareholders very happy in the long term.
For more stats at a glance, PepsiCo provided a handy infographic. Check it out: