Hershey Company Fields Backlash Over New Corporate Logo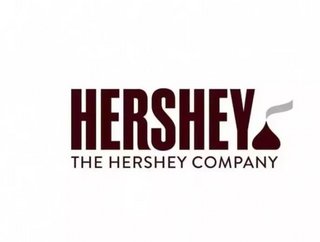 Earlier this week The Hershey Company unveiled its new corporate logo, as part of an effort to highlight its growth "from a predominately U.S. cho...
Earlier this week The Hershey Company unveiled its new corporate logo, as part of an effort to highlight its growth "from a predominately U.S. chocolate maker to a global confection and snack company," as Ad Age reports. Designed in-house with additional help from goDutch of Cincinnati and Alexander Design Associates of New York, the new logo is streamlined and slick, featuring a no-frills font and the addition of a little silhouetted Hershey's Kiss on the side. In the new design, The Hershey Company sees the sleek modernity of a global brand:
"The new branding will impact all visual aspects of how The Hershey Company presents itself, from consumer communications to websites to the interior design of its office spaces and the look of its retail stores," the company said in a statement. "While rooted in a rich heritage, the new corporate brand reflects a modern, approachable look that reflects the company's openness and transparency as it has grown into a global company."
But not everyone is sharing Hershey's own perception of its new branding attempt. The icon's perception across media and consumer chatter has been, well, not quite so highbrow: 
It seems safe to say that isn't the reaction that The Hershey Company had been aiming for. What to do? At a time like this you can either backtrack or double down, and Hershey is in no mood to backtrack. So rather than send the logo back to the drawing board, it's sticking by the creation. According to MarketWatch, the company's spokesperson is confident that the logo will be recognized and appreciate:
"For more than 120 years, The Hershey Company HSY, -0.88% has been one of the most recognized chocolate and confection companies in the world," Beckman said in a written statement. "The updated company logo is built around the Hershey logotype and the beloved 'KISSES' icon, which is widely recognized and understood by consumers around the world as a symbol of the company's longtime commitment to 'Bringing Goodness to the World.'"
This is very true – there was a lot of backlash against the naming of Mondelez International, with consumers and the media crawling out of the woordowrk to ridicule the name and compare it to George Costanza's alter ego employer Vandelay Industries. Two years later, no one's talking about anything except Mondelez's success and the criticism of the name is water under the bridge. The same thing will happen with the new Hershey logo. It's just going to have to ride out the tweets in the meantime.
[SOURCE: Ad Age; MarketWatch]