Is Hershey Chocolate Breaking Up with Corn Syrup?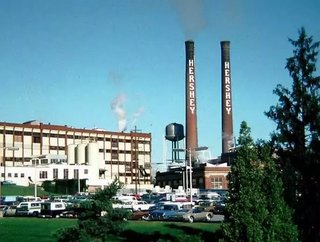 Check out the latest edition of Food Drink & Franchise! These days, mainstream confections in the United States are synonymous with the high fruc...
These days, mainstream confections in the United States are synonymous with the high fructose corn syrup. Inexpensive and ultra-sweet, high fructose corn syrup has allowed confectionery manufacturers to keep their products consistent and cost-efficient for a few decades now—but the drawbacks of high fructose corn syrup have left consumers wanting a change of sweeteners, and manufacturers are listening.
One of those manufacturers in particular is The Hershey Co., processor of everything from its flagship Hershey's Chocolate bars to Krackel, Reese's Peanut Butter Cups, and York Peppermint Patties (and dozens more chocolate-centric candy and syrup brands). According to a report from the Associated Press, The Hershey Co. could have plans to begin distancing itself from high fructose corn syrup and to start looking at getting back to more traditional sweetening methods:
Will Papa, chief research and development officer at The Hershey Co., told The Associated Press the company uses a mix of sugar and high-fructose corn syrup in its products but that it is "moving more toward sugar." […] "We take into account what consumers want. And consumers are telling us between the two, they prefer sugar," Papa said.
As the piece mentions, The Hershey Co. isn't totally dependent on high fructose corn syrup as a sweetener even now—while its candy bars like Almond Joy and York Peppermint Patties are sweetened with corn syrup, its classic standard Hershey bars use traditional sugar. But consumer concerns over health issues like diabetes and obesity linked to high fructose corn syrup have the confectionery company now exploring a return to traditional sugar for all of its chocolates.
RELATED CONTENT FROM FDF WORLD:
It's still a ways off before any concrete changes are made, as the company states that it's only in its beginning phases of exploration of this subject:
"Our aim is to be transparent with our consumers about the ingredients we use in our products. Once we have more information to share, we will be back in touch," Hershey said in its statement.
Still, the fact that Hershey is considering it to begin with is still major—it's a giant brand with a lot of influence on its peers and smaller businesses. If it does start to make real changes, this could be the beginning of a major shift in the way that confectionery and snack food companies create their products.
[SOURCE: Associated Press]
Let's Connect!