Chipotle is Launching Its Second Cultivating Thought Author Series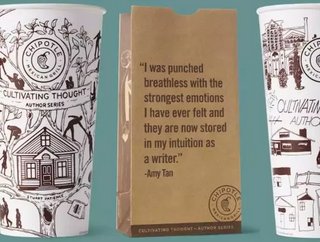 In May 2014, Chipotle Mexican Grill launched a special series of packaging, brightening up its bags and drink cups with brief "two-minute" e...
In May 2014, Chipotle Mexican Grill launched a special series of packaging, brightening up its bags and drink cups with brief "two-minute" essays by influential writers and celebrities from Toni Morrison and Malcolm Gladwell to Judd Apatow and Sarah Silverman. According to the company, the Cultivating Thought author series was a way to "disrupt the traditional fast food experience" by using packaging not just to promote new products, but instead to engage with consumers on a different level.
"As part of our effort to change the way people think about and eat fast food, we often produce programs that are designed to make people more curious about their food and where it comes from," said Chipotle in an e-mail to FDF World. "Here, we've simply extended that beyond food and wanted to produce writing that would entertain and make people think about things that they might not have thought about before. Beyond that though, this series gives nearly one million people each day access to writing from 10 different authors whose thoughts and creative works may otherwise be unfamiliar or out of reach."
That first experiment was a demonstrable success with consumers.  "People really enjoyed the new packaging," said the company. "The program was meant to stimulate conversation and encourage people to pause from their busy lives to enjoy the work of these authors, which is exactly the feedback we (and our authors) received via Twitter, Facebook and Instagram." That response has given Chipotle the green light to bring the project back in 2015, with a second installment of Cultivating Thought curated by Jonathan Safran Foer.  
Acclaimed author of Everything is Illuminated and the non-fictional critique of factory farming Eating Animals, Foer also contributed to the first Cultivating Thought installment and has been an integral part of the development of the series.  
"Our partnership with Jonathan started with a shared belief," states Chipotle.  "Both [Chipotle Chief Marketing and Development Officer] Mark Crumpacker and [co-CEO] Steve Ells read Eating Animals and were impressed with the book and curious about its content so they reached out to Jonathan and had lunch with him. A few years later, Jonathan was eating lunch at Chipotle and was bored because he forgot to bring a book with him. After looking around the restaurant and noticing that many people around him were also sitting around doing nothing, he had the idea that items in our restaurants, such as the bags and the cups, could be the perfect place to engage customers in a thoughtful, entertaining way. He called Mark with his idea and later that day Mark asked Jonathan if he would like work with us on the project."
While Foer has not supplied an essay himself this time around, he has selected works from an eclectic range of contributing authors:
Julia Alvarez (Poet and novelist, How the Garcia Girls Lost Their Accents, In the Time of the Butterflies)
Aziz Ansari (Actor and comedian, "Parks and Recreation")
Augusten Burroughs (New York Times bestselling author, Running with Scissors)
Paulo Coelho (Novelist and world record-holder [most translated book by a living author], The Alchemist)
Jeffrey Eugenides (Pulitzer Prize winning author, Middlesex, The Virgin Suicides)
Neil Gaiman (Novelist, graphic novelist and screenwriter, The Sandman, The Graveyard Book, Coraline)
Walter Issacson (Author and biographer, The Innovators: How a Group of Inventors, Hackers, Geniuses, and Geeks Created the Digital Revolution, Steve Jobs)
Barbara Kingsolver (New York Times bestselling author and Pulitzer Prize finalist, The Poisonwood Bible, Animal, Vegetable, Miracle)
Amy Tan (Bestselling author, The Joy Luck Club)
Carlos Ruiz Zafron (Novelist, El Príncipe de la Niebla [The Prince of Mist])
 "Jonathan drove that element of the program and recruited authors by reaching out to them," says Chipotle. "While this project is designed to engage our customers in a thoughtful, meaningful way, it is also a great opportunity for the talent involved to expose their writing and artistic expression to Chipotle's large and diverse audience."  
 Look out for the new series to appear on Chipotle packaging in the weeks to come—or if you'd rather just check out the essays all at once, visit chipotle.com/cultivatingthought.