Beyond lip service: Inside the rise of EatFirst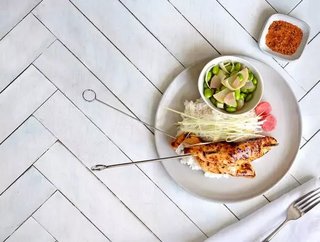 In four years, EatFirst has grown from a tiny food delivery startup to a UK-wide superpower for gourmet ready meals, catering for consumers, businesses...
In four years, EatFirst has grown from a tiny food delivery startup to a UK-wide superpower for gourmet ready meals, catering for consumers, businesses and now online supermarkets. FDF investigates the company's recipe for success
The story of EatFirst is as improbable as it is extraordinary. In 2014, Rahul Parekh was trading equity derivatives for Goldman Sachs – the 'city job' he'd dreamt of since childhood. Yet somewhere amid his eight years working for the investment bank – most likely the collision of long hours with unhealthy takeaway options that demolished any hope for a balanced diet – Parekh had a culinary epiphany. "I felt there was a better way of doing it," he says.
Four years on, and EatFirst has graduated from deskbound daydream to the UK's leading purveyor of gourmet ready meals. Following various trials during its 2014 launch (including superfast delivery, hot food options and a subscription service), the company settled on a business model that sees expertly made meals arrive chilled, for optimum freshness. Each dish comes with a five-day fridge guarantee, and is ready to heat and eat in five minutes or less.
SEE ALSO:
Working in tandem with Benn Hodges – EatFirst's Culinary Director, who lists The Ivy, Century Club and Roka among his past employers – Parekh has grown the online food brand from a staff of five to 35, with separate B2C and B2B divisions, as well as a freshly launched retail arm, making EatFirst meals available for purchase on Ocado. With EatFirst's HQ and kitchen alike in London, diners in the capital can expect same day delivery, with households in England and Scotland (bar the Scottish Highlands) able to receive their meals the following day, via chilled courier.
Although Parekh stresses EatFirst's "actual launch" was September 2015, he admits the startup's trial-and-error beta phase has been key to its subsequent success. "We figured out that delivering chilled or ambient temperature is far better quality than delivering hot, because the taste and nutrients degrade over time whilst in delivery," Parekh says. "It's why takeaways never taste as good as restaurant food, because everything becomes overcooked or gets soggy on the way. That's why we decided to only deliver chilled or ambient food, with the option of heating at home."
As for that success, it has been notably swift. EatFirst has enjoyed month-on-month growth since launching, as well as a slew of awards. Hodges was crowned Best Takeaway Chef in Britain in 2017, the same year two EatFirst dishes were victorious at the Great Taste Awards. Previously, in 2016, the company was named the Best Takeaway in North London. But with it looking to scale, many new challenges are presenting themselves. These range from reliable distribution channels to managing a growing team. While it might be dismissed as insignificant by some, Parekh and Hodges are steadfast in their commitment to skills and training, for their gradually increasing staff. For them, it's critical that all new hires possess the requisite energy and, unsurprisingly, hunger.
"I think it's about having the right culture," says Parekh. "My inspiration on this is David Buttress, who used to be the CEO of Just Eat. Why did Just Eat succeed – becoming a multibillion dollar company, and one of the first UK tech companies to file a successful IPO in recent times – while all the others failed? He created this culture that was really strongly customer facing, of actually just nice people, in his team.
"Every time I speak to David, one of the things he emphasises to me is that it is all about attitude. He ended up with a team of thousands of people, but if you create a culture where people are hired based on attitude and nothing else, then you can still retain that, even if you are a massive company."
Such a tactic is not without its glitches – Parekh concedes that staff members displaying the wrong attitude "need to be out ASAP, before they start affecting the rest of the team" – but for those employees that embody the EatFirst modus operandi, the opportunities come without limits.
"If someone has the right attitude but they don't have the right skillset we're very happy to train and upskill them," says Parekh proudly. "In Ben's team we've got fantastic examples of that. Xander started as a kitchen porter, cleaning floors and cleaning dishes, and is now running a section of the kitchen as a chef de partie – all within three years. Arabella, who started as an intern, is now running our whole B2B division, which makes up 50% of our business."
SEE ALSO:
Another aspect that ensures a consistent, company-wide mindset is EatFirst's performance appraisal system. Whether kitchen assistant, culinary director or CEO, all staff members are assessed in the exact same way. "It provides transparency – everyone is on the same playing field," says Hodges. "It also sets a real tone, so when people come into our business, they can see how positive and dynamic of a workplace it is." Moreover, Parekh is keen to point out such an approach ensures that every employee is constantly reminded to consider the EatFirst customer.
"In everything we do, we basically take the customer and work backwards," he says. "So we try to hire people that are specifically customer-focused, and then we make sure that all of our goals regarding training, performance feedback and everything else is focused around how we're doing with the customer experience we're delivering."
Given that EatFirst is essentially looking to reinvent the very meaning of 'takeaway' – whether through raising the ceiling on quality, supplying chilled, fridge-friendly meals, or partnering with an online supermarket – this customer-first mandate is proving to be particularly shrewd. Perhaps influenced by the learnings from its soft launch, EatFirst effectively gives its customer base the keys to its menu. Each dish is available to be rated and, in the event of a sub-par score, is quickly taken out of rotation and improved. Alternatively, clear favourites will feature on the rotating menu more often. Added to EatFirst's high level of order feedback (30%), incentivised customer surveys and invitations for its "best customers" to road-test new dishes at tasting sessions, it's abundantly clear that EatFirst's 'customer is always right' directive goes far beyond simple lip service.
"We've been on a great journey together for the past three years," Parekh says. "While there are a lot of food companies out there, I don't feel there is anyone doing what we're doing – creating innovative food experiences of a really, really high quality."