The Top Ten Food Processing Brands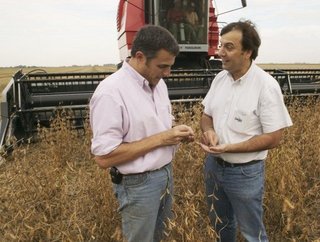 10. Associated British Foods Revenue: $22.6 billion (£13.3 billion)
10. Associated British Foods Revenue: $22.6 billion (£13.3 billion)
London-based Associated British Foods (ABF) has made a name for itself through such major household brands as Twinings, Mazola oil, and Fleischmann's yeast. But it's the food processing company's multipronged approach as a manufacturer of ingredients and private label grocery store productsthat's helped ABF earn its place as one of the world's top food processors, with revenue of £13.3 billion (USD $22.6 billion) in 2013.
9. Groupe Danone Revenue: $29.04 billion (€21.29 billion)
In North America, Groupe Danone is best known for its yogurt brands like Activia and Brown Cow produced by the Dannon Company. But around the world, the food processing business has strategically diversified its offerings through acquisition of brands like Yakult and Evian. This dairy and beverage empire has done well for itself, posting €21.3 billion (USD $29 billion) in 2013.
8. Tyson Foods Revenue: $34.37 billion
Arkansas-based Tyson Foods is massive in the industry, ranked among the top in its class for food processing and meat production with revenue of $34.4 billion in 2013.In June, Tyson triumphed in a bidding war against Pilgrim's Pride to purchase Hillshire Brands for $8.5 billion – by acquiring the packaged meat company, Tyson can expect even bigger revenue in the next year.
7. Mars Inc. Revenue: $33 billion
Candy and confections are big business, and no one is a better example of that than Mars Incorporated. Famous for candy brands like Milky Way and Snickers, this family-owned business is ranked by Forbes as the third largest privately owned company in the United States, pulling $33 billion in revenue between its own international brands and its subsidiary The Wrigley Company.
6. Mondelez International Revenue: $35.3 billion
Global snack and confectionery brand Mondelez International has truly come out from under the shadow of Kraft, the company it spun off from just a couple of short years ago. While 2013's revenue of $35.3 billion is only modest growth compared to 2012's numbers, the maker of brands like Cadbury and Nabisco is still going strong.
5. JBS S.A. Revenue: $40 billion
São Paulo, Brazil-based JBS S.A. continues its reign as the largest meat processing company in the world, with 150 facilities processing and selling beef, chicken, and pork products to consumers around the world. JBS's growth has been bolstered by its notable acquisitions over the years, including Smithfield Foods' beef business and a majority stake in Pilgrim's Pride. This year JBS topped its 2012 numbers, posting revenue of $40 billion for 2013.
4. PepsiCo Revenue: $66.41 billion
Even as soft drink sales slump, PepsiCo can always count on a huge boost from its food processing sector with its portfolio of brands like Quaker Oats and Frito-Lay, along with synergistic successes like its partnership with Unilever to produce Lipton iced teas and its blockbuster partnership with former subsidiary Yum Brands on Taco Bell's Doritos Locos tacos and Mountain Dew Baja Blast drinks. These smart moves have helped PepsiCo increase revenue from 65.5 billion in 2012 to $66.41 in 2013.
3. Unilever Revenue: $67.9 billion (€49.8 billion)
With headquarters in London and Rotterdam, Unilever is truly a multinational consumer goods brand. With brands like Hellman's/Best Foods and Lipton within its portfolio, food processing is among the many services that have helped Unilever collect €49.8 billion (USD $67.9 billion) in revenue in 2013, and the brand's commitment to improving its environmental footprint is a strong step forward to ensure that the brand will still be producing for decades to come.
2. Nestle Revenue: $102 billion (CHF 92.16 billion)
Nestle may have been formed as a milk company, but a century later it's so much more. The Vevey, Switzerland-based food processor has a hand in everything from chocolate and coffee to frozen foods under big name brands like Nescafe, Nesquick, Lean Cuisine and Wonka – not to mention brands like Arrowhead and San Pellegrino under its lucrative Nestle Waters brands. All told, Nestle's extensive portfolio has brought in revenue of CHF 92.16 billion (USD $102 billion) in 2013.
1. Cargill Revenue: $136.65 billion
Minnesota-based food processing company Cargill remains at the top of the game, earning $136.65 million in revenue and an impressive $2.31 billion in profits alone in its 2013 fiscal year. It's been a good year for Cargill – according to the company's 2013 annual report, improved supply chain efficiencies contributed greatly to its earnings performance. This year, Cargill is turning its focus to its corporate responsibility, looking at ways to increase food security and productivity. Cargill also displayed its ability to learn from history and adapt to changing consumer needs, raising its transparency level and consumer goodwill with its announcement that it would begin labeling meat products containing "finely textured ground beef" for retail. All of this is adding up to a 2014 that will be as promising as Cargill's 2013, if not more.