Top 10 food industry influencers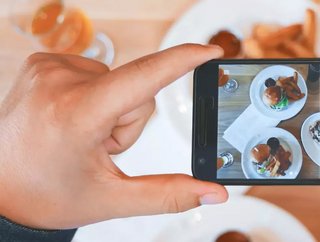 Wet your appetite with these top 10 international food industry influencers who have proven that you really can have your cake and eat it
From Michelin-starred chefs and iconic self-styled foodies, to accidental social media sensations and mumpreneurs, these top 10 industry influencers span all ages - from 26 years young to nearly 80 - and backgrounds, from African to Turkish to British. 
What connects them, however, is their passion for food and ability to produce compelling brands and distinct and engaging content – be it video, blogs or photography – that has successfully secured millions of followers across Instagram, as well as YouTube, TikTok and Twitter and Facebook in some cases. 
From conjuring up cakes that look like works of art to churning out super-healthy cuisine in record time, our top 10 food industry influencers are ranked by number of Instagram followers.
 
10. Ina Garten (Barefoot Contessa)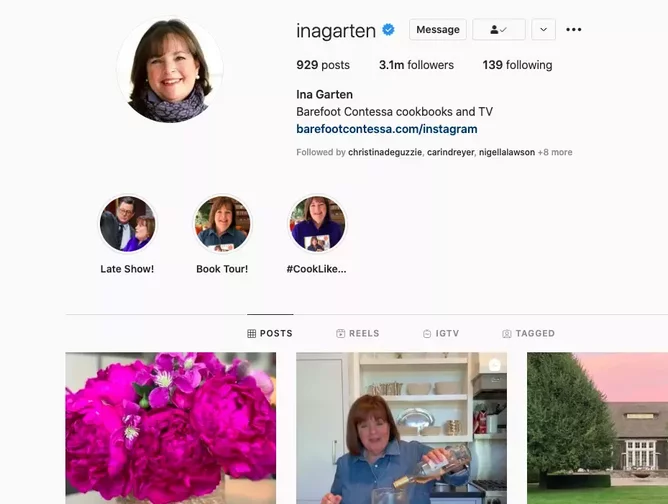 Instagram: 3.1 million
Twitter: 203.9K
Despite taking a six-week absence from Instagram in June/July last year, the celebrity chef, who is famed for the Barefoot Contessa cookbooks and show on Food Network, continues to pull in the followers with her usually prolific posts in which she shares everything from homemade cocktails and cake recipes to entertaining tips and floral displays.
The now 73-year-old New Yorker, who has an MBA and White House experience under her belt, began her culinary career with a gourmet food store, Barefoot Contessa, in the Hamptons in the late 70s, a highly successful venture that secured a celebrity clientele (Steven Spielberg and Lauren Bacall) and led to her becoming, in her 50s, a bestselling cookbook author and TV host of the wildly popular Barefoot Contessa cookbooks and TV show, which showcases her signature brand of 'earthy yet elegant' cooking.
With 11 bestselling coffee table-style cookbooks under her belt, and a hugely popular TV show that aired from her barn in the Hamptons for 26 seasons over 17 years and garnered a Daytime Emmy Award, Ina also launched her own line of upscale packaged convenience foods including sauces and cake mixes and was recently included in the inaugural 2021 Forbes 50 over 50 this year.

9. Foody Fetish (Yanni Georgoulakis)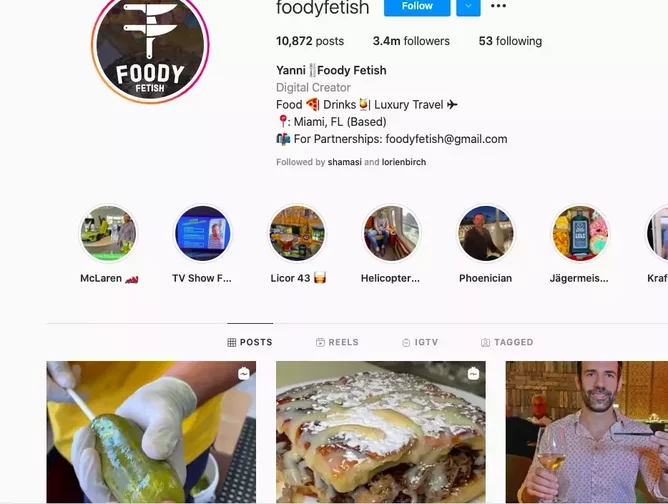 Instagram: 3.4 million
TikTok: 1.7 million 
Facebook: 346K
An accidental social media influencer with a passion for food and an ethnic heritage, Miami-based Yanni Georgoulakis, the man behind the hugely popular Foody Fetish brand, attributes his passion for trying new foods to his Greek and Cuban heritage. Cultivating a following of 3.4m on Instagram in just a few years, with a focus on Instagram and TikTok, Foody Fetish delivers a story of Yanni's journey through life via food, drink and travel to hotel destinations.
While not specialising in a certain type of food, through his channels, Yanni celebrates cultural food taken in gorgeous locations with stunning photography that is a nod to his background in photography. Foody Fetish has partnered with everyone from small food brands to major players like Burger King, Papa Johns and Major League Baseball.
 
8. Foodgod (previously Jonathan Cheban)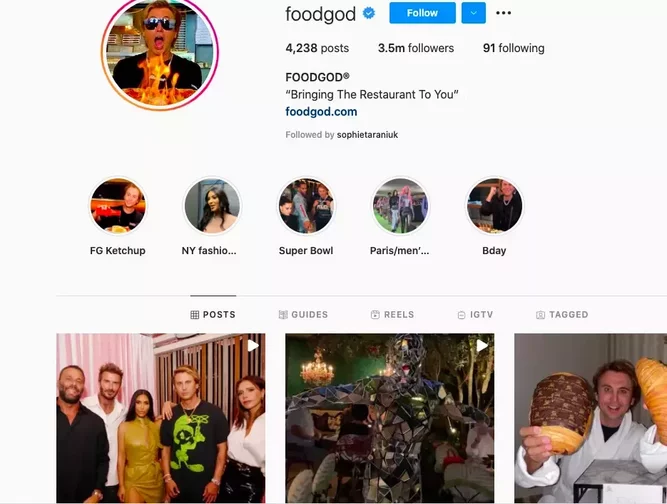 Instagram: 3.5 million 
TikTok: 6.8 million
Facebook: 3.4
Twitter: 658K
You know someone is committed to succeeding on social media when they change their real name to their social media handle. Enter Foodgod (AKA Jonathan Chaban), a former Penny Siegal publicist who excels at publicising himself. Having worked as a publicist on Sean Combs' 29th birthday party and featured on numerous episodes of Keeping Up With the Kardashians as Kim's BFF, it's little wonder to see this American foodpreneur now top of the food influencer chain.
Foodgod has dabbled in everything from starring in his own reality TV show The Spin Crowd, produced by Kim Kardashian, to launching his own clothing life (Kritik) and lifestyle website (TheDishh), to opening a sushi restaurant in Miami (MIKasa) and fast-food restaurant Burger Bandit on Long Island. It is his brand (and now legal name) Feelgod, however, that has brought him fame and fortune, securing him a huge social media following, various licensed product lines, including his own truffle ketchup and CBD snacks, and more than 40 endorsements with estimated earnings of US$30,000 per month on each social-media endorsement.
With Foodgod centered around the brand promise of bringing the restaurant to you by eating out 365 days a year, his social media delivers a random array of photos and videos (there's even a podcast titled Foodgod: OMFG) showcasing him trying out new food hotspots, delivering food hacks, undertaking food experiments, and showing off his luxurious, celebrity-rich lifestyle.
 
7. Rena Awada (Healthy Fitness Meals)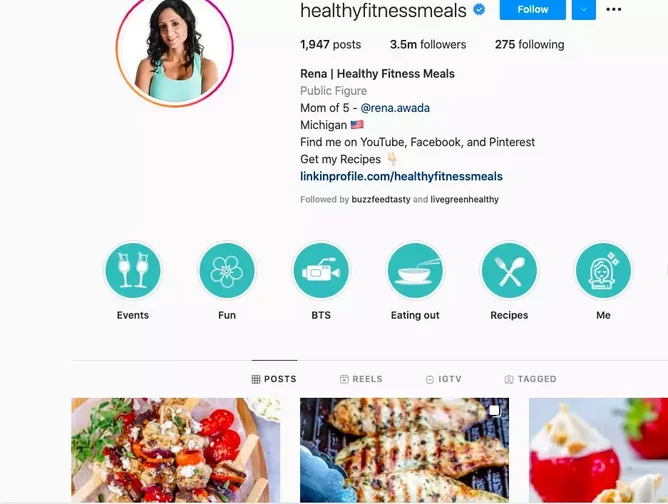 Instagram: 3.5 million
Recognised as one of the first early adopters of Instagram to build a profitable business on its platform, mother of five Michigan-based Rena Awada began her now highly successful company Healthy Fitness Meals, of which she is CEO, in an attempt to juggle motherhood and work by turning her passion for healthy living and eating into a blogging business sharing her healthy recipes.
Of West African origin (Sierra Leone), but living in the US since 1999, and with a degree in biochemistry, Rena packs her highly successful Instagram account @healthyfitnessmeals and website with delicious, healthy, family-friendly recipes that, according to Rena, don't "sacrifice any of the flavours that can be found in their full-fat origins". Rena teams up with freelance recipe developers to concoct her creations testing all dishes before posting, and as well as featuring her own recipes, she showcases herself cooking with her kids, and features other food bloggers with the aim of supporting mumpreneurs like herself.
 
6. Martha Stewart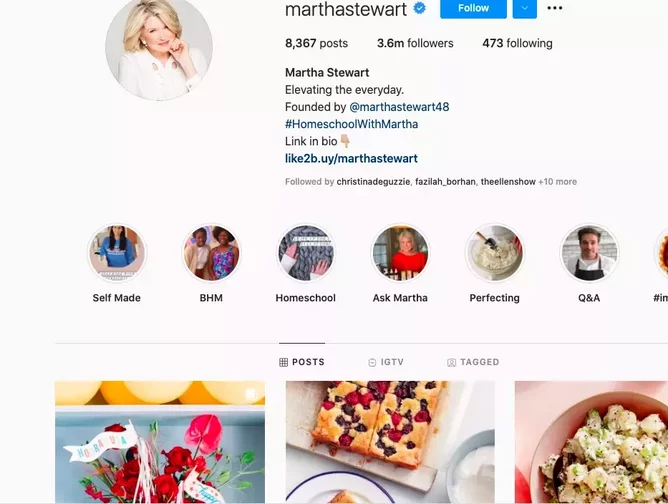 Instagram followers: 3.6 million
Facebook followers: 3 million
A food influencer even before social media existed, American businesswoman, writer, TV personality and founder of Martha Stewart Living Omnimedia, 79-year-old Martha Stewart is credited with being the first female self-made billionaire in the US, making her money and successful social media following from her passion for cooking, hosting and homemaking. Martha began her culinary career with a catering business set up in 1976, and run from her Connecticut basement, before opening a gourmet store and unveiling her first book, Entertaining, in 1982. The book's unexpected success led to a proliferation of cookbooks, authorship of numerous newspaper columns on homemaking and cooking, and the launch of her magazine Martha Stewart Living in 1990. This subsequently led to a TV show of the same name, and further shows including Martha Stewart's Cooking School, Martha Bakes and one with her good friend, rapper Snoop Dogg, on potluck dinners.
Her wide following on social media, including 700,000 subscribers to her YouTube channel Martha Bakes, is tribute to the decades-long dedication Martha has given to building her brand, putting her name to everything from an upscale line of housewares for Macy's, to a collection of wines with Gallo, and earning her a place in the Licensing International Hall of Fame in 2020. 
 
5. Ree Drummond (The Pioneer Woman)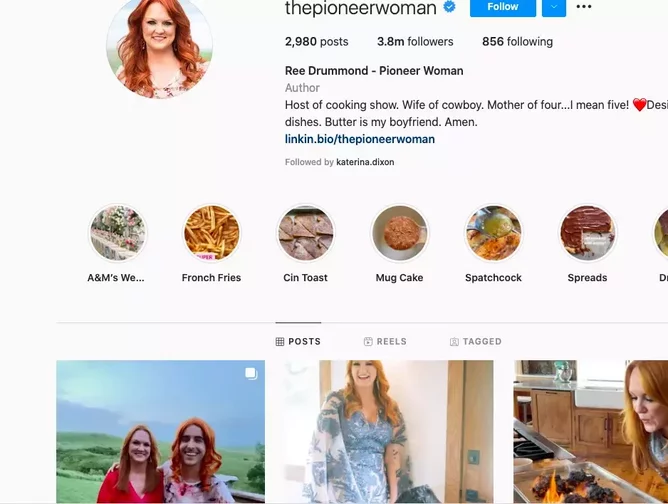 Instagram: 3.8 million
YouTube: 19.7K
TikTok: 284.2K 
Facebook: 5 million
Twitter: 1 million
Dubbed the Pioneer Woman, home cook turned entrepreneur Ree Drummond is a household name in the US where she runs her food empire as a blogger, author, writer, photographer and TV personality from her and her cowboy husband's 433,000-acre ranch in Oklahoma. It was the red-headed rancher's lifestyle blog, debuting in 2006 with a step-by-step guide to cooking steak, that ignited her career and secured her a multitude of fans, followers and awards, not to mention book deals. But it was her Food Network series The Pioneer Woman, launched a decade ago, that really catapulted her and her brand to social media stardom even securing her an Emmy nomination.
With wholesome, simpler living appeal, as The Pioneer Woman, mother-of-five Ree cooks up delicious comfort foods, including her signature casseroles and famed cinnamon rolls from her ranch and in her spare time continues to write (she's a #1 NY Times bestselling author and has penned a number of cookbooks, her memoirs, and a series of children's books). Under The Pioneer Woman brand, she also has a long list of branded products, from a clothing line with Walmart to a cookware range with Gibson and a line of custom seasonings with Old Word Spices. Ree also owns the Mercantile, a destination restaurant, bakery and store in Pawhuska, Oklahoma, which aims to give fans a slice of her signature small-town hospitality. 
 
4. Rosanna Pansinno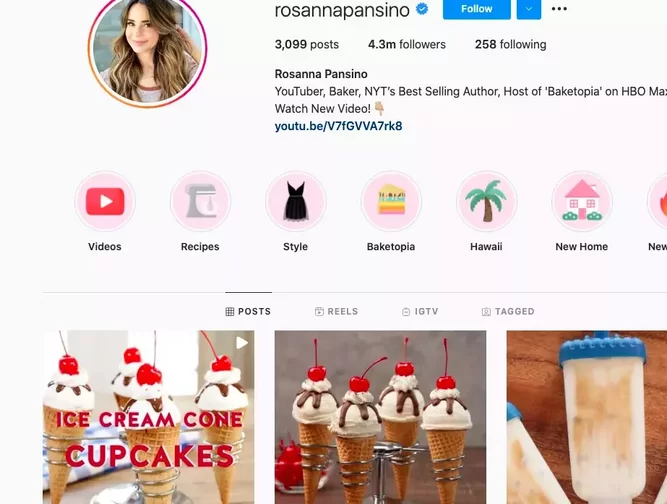 Instagram: 4.3 million
YouTube: 12.9 million
TikTok: 914K
Facebook: 715K
Twitter: 926K
Listed top on Forbes' Top Influencers: Food list in 2017 and one of the highest-paid women on YouTube, this American foodie influencer, actress, author and singer began her journey to social media stardom in 2011 with award-winning internet cooking show Nerdy Nummies, which celebrates its 10th anniversary this year. Starting out as a hobby for Rosanna, whose plan was to be an actress with cameo roles in CSI and Parks and Recreation, Nerdy Nummies has since gone on to become the most popular cooking series on YouTube with weekly videos securing hundreds of thousands of views. The show's success has also led to a NY Times bestselling cookbook and a bakeware product line that's a consistent sell-out in Walmart.
With 12.9m subscribers on YouTube and more than 3bn lifetime views, Rosannna is proud of having never missed a weekly upload in a decade of shows. Her latest project taps into her acting roots even more, as executive producer, host and judge on new HBO Max bake-off reality series Baketopia. 
 
3. Jamie Oliver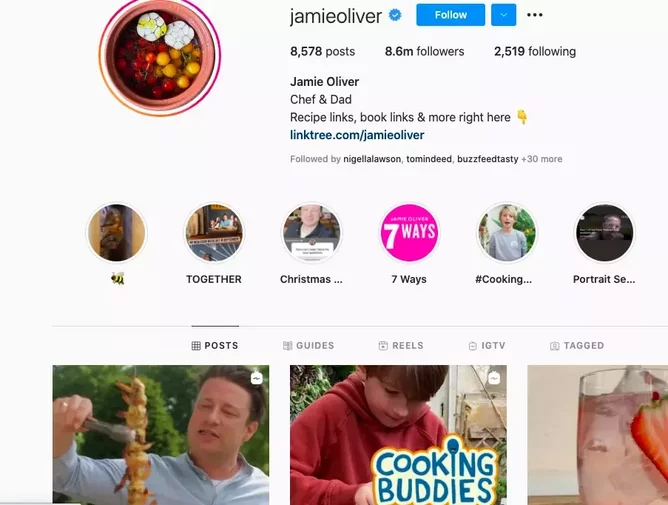 Instagram: 8.6 million
YouTube: 5.52 million
Facebook: 7.2 million
Twitter: 6.4 million
Rising to fame in the 90s with his minimalistic, healthy cooking and accessible 'lad about town' persona on hit TV show The Naked Chef, British chef, restauranteur, author and Bafta award-winning TV personality Jamie Oliver MBE has had a bit of a rough time of late. His global restaurant chain, Jamie's Italian, went under in 2019. Such a culinary fall may have harmed his finances, but not his popularity it seems, with the much-loved TV personality continuing to pull in fans and followers across his social media channels with a combined following of 14 million.
Author of more than 30 bestselling cookbooks (he is credited with being the UK's second-biggest selling author of all time after JK Rowling) and creator and host of numerous TV shows and a food/music festival. However, it is the 45-year-old father of five's food activism, launching campaigns to battle childhood obesity in the UK, that has most endeared him to fans. Jamie uses his popular social media channels to highlight this issue, advocating for nutrition and healthy eating, alongside sharing videos of him cooking up a storm with his youngest child, Buddy. That said, Jamie has certainly cashed in on his name and fame, becoming an ambassador for UK supermarket Sainsbury's, and partnering with culinary brands like Tefal, Royal Worcester and Viva Foods on cookware, tableware and pasta sauces, respectively. 
 
2. Gordon Ramsay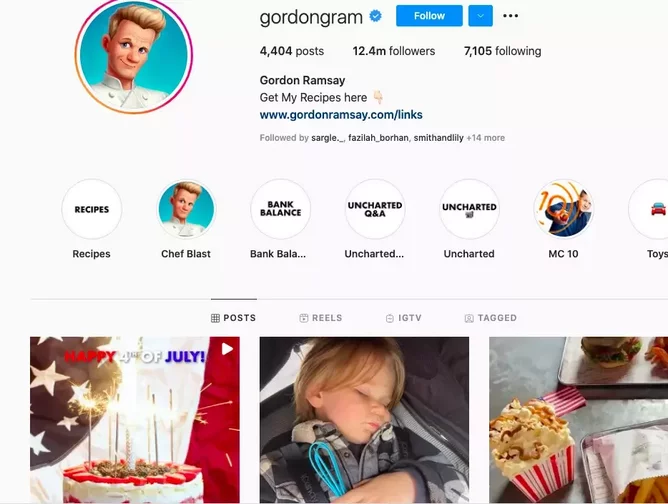 Instagram: 12.4 million
YouTube: 17.8 million
Facebook: 21 million
Twitter: 7.4 million
He may well have seven Michelin stars under his culinary belt, but world-famous British chef, restaurateur, writer and TV personality Gordon Ramsay is perhaps best known globally for his foul mouth, which has catapulted him to superstar TV status with shows like Hell's Kitchen. Recently named the UK's hardest working chef, millionaire Ramsay has 15 casual and fine-dining restaurants in London and seven Michelin stars internationally and also hosts a number of hugely popular shows including Hell's Kitchen, Masterchef, and National Geographic's Gordon Ramsay: Uncharted.
The 53-year-old father-of-five still has time for social media, however, where he rules the culinary roost with a combined following (YouTube, Instagram, Twitter) of 43 million and estimated earnings across the platforms at £2.7m annually, with Instagram alone earning him a whopping £25,000 per sponsored post. On Instagram, Ramsay serves up dishes from his restaurants, clips from his cooking shows, and family shots; while on Twitter, he puts his signature brutal humour to good use by rating, or rather, roasting photos of fans' dishes that have been sent to him.
 
1. Burak Ozdemir (CZN Burak)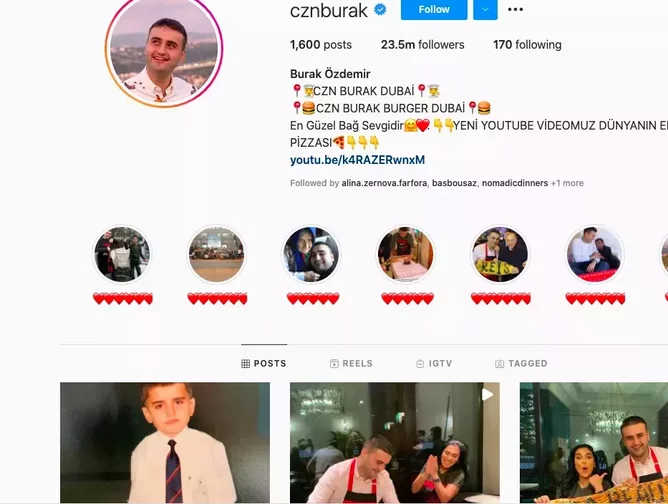 Instagram: 23.5million
TikTok: 42.1 million
From humble beginnings, as the son and grandson of hard-working, humble chefs of Syrian descent, Turkish restauranteur and chef Burak Ozdemir (better known as CZN Burak) has risen to food influencer fame along with the rise of TikTok where his stand-out culinary techniques, big flavours, even bigger portions, and signature smile have made him into a global social media sensation. In fact, this 26-year-old chef was most recently ranked among the biggest TikTok stars, at number 15, and has been named Turkey's most successful content producer.
But that's not even his day job. Having worked in his own family's restaurant since the age of 13, and with a passion for blending Turkish and Middle Eastern cuisine delivering dishes that can be shared with family and friends, Burak also owns and runs a chain of Middle Eastern-inspired restaurants, with six across Turkey and one recently opening in the United Arab Emirates. This latest opening, in Dubai, has inspired day-long queues, such is his global, though mainly Arabic, social media influence.