Top 10 Culinary Arts Schools in the Northeast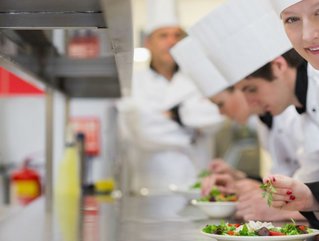 From your executive chef to prep workers, choosing the right personnel for a well-rounded kitchen staff is one of the most important decisions a rest...
From your executive chef to prep workers, choosing the right personnel for a well-rounded kitchen staff is one of the most important decisions a restaurant owner will make. It's not a requisite exclusive to the fine dining world, either—even large chain restaurants rely on a skilled executive culinary team to come up with fresh innovative ideas and make menu updates season after season.
So how can you know that your hiring choice has the right training and experience for the job at hand? One way is by taking a look at their education. A credential from a recognized and accredited culinary school shows more than just skill—it's also proof of drive, dedication, and a desire to improve. Taking on a student from a top culinary school can give you confidence that your new hire is creative, technically trained, and ready for the tasks and challenges that lie ahead.
In this edition, we're highlighting ten of the best Culinary Arts programs in the Northeastern United States that answer the call to prepare students for success.  
1. Boston University Metropolitan College Certificate Program in the Culinary Arts
Boston, MA
If your aim is to go far in your industry, you want to learn directly from professionals who have made it to the top of their career themselves. Boston University's culinary arts certificate program strives to offer its students that experience. Co-founded by Julia Child and Jacques Pépin and taught entirely by experienced, working chefs and food industry experts, the school's hands-on Certificate Program in the Culinary Arts is the only one of its kind in the country. 
"[This] intensive, semester-long program exposes students to classic French techniques and international cuisines," states the school. "Merging the best aspects of traditional culinary arts study with hands-on instruction in BU's state-of-the-art laboratory kitchen, the program provides unique insight into how the food industry works. Our faculty includes some of the world's finest chefs, including Chef Pépin, Mary Ann Esposito (chef and host of Ciao Italia), Michael Leviton (chef and owner of Area Four and Lumiere), Jamie Bissonnette (chef and owner of Coppa and Toro, named 2014 Best Chef Northeast at the James Beard Foundation Awards), and others.  Over 400 hours of instruction leads to mastery of both the basic classic and modern techniques."
In addition to its traditional Culinary Arts program, BU also hosts a Wine Studies Program and a comprehensive multidisciplinary Master of Liberal Arts (MLA) in Gastronomy to round out its Food & Wine programs.
Get details on the BU Certificate Program in the Culinary Arts, including an application.
2. International Culinary Center
New York, NY
Founded in 1984 as The French Culinary Institute in 1984, the International Culinary Center today is a leading globally recognized school specializing in culinary and wine education, with programs in New York, California and Italy. Led by high profile deans like Jacques Pepin, Jacques Torres and Jose Andres, ICC's six-month Total Immersion program has graduated more than 15,000 students over its three decades in business. That includes an impressive roster of star alumni such as Bobby Flay, David Chang, Dan Barber, Wylie Dufresne, Hooni Kim, Josh Skenes, and Christina Tosi.
The International Culinary Center offers an impressive range of specialized professional programs, from culinary arts and pastry arts to bread baking and food styling, and also offers credits and a partnership with NYC's The New School to help students earn a full bachelor's degree. This year ICC is taking its offerings even further with the launch of a new expanded program. "When we first opened in 1984, about 90% of students wanted to be restaurant chefs," states ICC founder and CEO Dorothy Cann Hamilton. "With the wide range of culinary careers now possible, 70% of students tell us they want to open their own businesses." To that end, ICC is adding a paid externship program, specialized skill workshops, and new courses focused on economics and entrepreneurship.
A recipient of the International Association of Culinary Professionals' "Culinary School of Excellence" Award since 2010, recognition of ICC's status as a premier Culinary Arts school goes all the way to the top: in late 2013, the White House announced that the school will be working with the James Beard Foundation to create the USA Pavilion at the World EXPO (World's Fair) in Milan in 2015.
3. Culinary Institute of America
New York, NY
Founded in 1946, the Culinary Institute of America is one of the oldest culinary programs in the United States and one of the most famous and esteemed. The private not-for-profit school's alumni roster is home to many familiar names like Grant Achatz, Charlie Palmer, Richard Blais, Cat Cora, Anthony Bourdain, and Johnny Iuzzini—and that barely scratches the surface of the many who have passed through the school's Culinary Arts and Baking & Pastry Arts programs. On the faculty side, the school boasts renowned experts and the largest cache of Master Chefs certified by the American Culinary Federation.
Just because CIA has been around for the better part of a century, that doesn't mean it's grown stodgy or short on new ideas and innovation. In addition to traditional Culinary Arts and Baking & Pastry Arts, the school also offers progressive Bachelor's Degree programs like the Bachelor of Professional Studies (BPS) in Applied Food Studies, which tackles subjects like food policy and global food systems, or the tech-focused BPS in Culinary Science to prepare students for careers in anything from R&D and large scale operations to molecular gastronomy—plus ProChef® certification programs for professionals who have already started building their careers.
The school also partners with the equally prestigious Cornell University's School of Hotel Administration for a collaborative degree program that allows students to take courses at both schools and earn both a Cornell SHA Bachelor of Science and a CIA Associate in Occupational Studies over a four year period, preparing students the culinary and management training needed for a shining career in any sector of the hospitality industry.
4. Johnson and Wales University – Providence
Providence, RI
Johnson and Wales University is a culinary school that thinks outside the savory and sweet box—this is a school that embraces and incorporates cutting edge innovation and techniques into all of its four undergraduate majors and two continuing education programs.
"JWU is a culinary university, not just a 'cooking school'," said Dean of Culinary Education Karl Guggenmos ('93, '02 MBA) as the school introduced its partnership with Modernist Cuisine co-author Chris Young to create a new culinary science-intensive curriculum. "We have a strategic commitment to embrace culinary arts as equal parts art, craft and science, with the full depth and breadth of the university's infrastructure behind it."
That line of thinking has led the school's course of education on interesting paths, including a nutrition-based Culinary Medicine joint curriculum collaboration project with Tulane University. It has also helped to form the careers of star alumni across its campuses like Emeril Lagasse, Chris Santos, Ashley Brauze (Executive Pastry Chef, Café Boulud) and Fernando Desa (Executive Chef for Goya Foods).
5. The Restaurant School at Walnut Hill College
Philadelphia, PA
Founded in 1974 and offering four majors (Hotel Management, Restaurant Management, and Pastry Arts along with the classic Culinary Arts), the Restaurant School at Walnut Hill College is a small boutique college that prides itself on offering a unique education emphasizing above all the power of hands-on experience. Part of the way that the Restaurant School at Walnut Hill College achieves this is through small class sizes—with a 9:1 student to instructor ratio, every student is afforded individualized attention and opportunities for one-on-one instruction.
"The Restaurant School at Walnut Hill College, we believe students should learn the art of true hospitality by experiencing the finest aspects the industry has to offer," state the school. With this in mind, degree and certificate programs at the Restaurant School at Walnut Hill College also culminate with a tuition-paid tour of France, England, or Florida's cruise and resort circuit to give students a firsthand immersion experience in different aspects of the industry. This kind of instruction has proven to be a path to success, as seen through spotlight alumni like Jason Cichonski (Chef/Owner of Ela and The Gaslight, Top Chef: New Orleans cheftestant) and Chris Kearse (Chef/Owner Will BYOB, ranked in Zagat's "30 Under 30 Philadelphia" and named "Best New Chef" by Philadelphia Magazine).
6. Art Institute of Philadelphia
Philadelphia, PA
In an Art Deco building in the heart of the city, The Art Institute of Philadelphia is dedicated to several creative and artistic pursuits—not least of which is the Culinary Arts. The Art Institute offers a range of three Culinary Arts degrees (a Culinary Arts diploma and a Baking & Pastry diploma, plus an Associate's Degree in the Culinary Arts) as well as a Bachelor's Degree in Culinary Management for students who want to take their education a step further.
"At The Art Institute of Philadelphia, we have strived to ensure our program is and remains industry focused, ensuring our students have the skill set that today's industry is looking for," says Chef William Tillinghast, Culinary Director at The Art Institute of Philadelphia. "We attempt to instill a positive and realistic work ethic that will allow our graduates to be successful in the modern kitchen or bake shop." 
At the student-run Petite Passion Restaurant, students get to build that work ethic and stoke their own culinary passions with 11 weeks of hands-on real world training. Graduates of the Art Institute of Philadelphia's Culinary Arts programs come out well equipped to get started in their chosen field. "We have students doing wonderful work in restaurants, clubs, hospitals, retirement communities & the local ball park, says Chef Tillinghast.
7. Drexel University
Philadelphia, PA
Philadelphia is big on food and sports—and the two industries are combined at Drexel University's Center for Hospitality and Sport Management, a college that aims to train students for a wealth of career paths within the city's bustling tourism industry. "Our center has relationships with every professional sports team in the city, the finest restaurants and hotels, and the food companies that feed the nation," states the school. "Taken together, the facets of the tourism industry that we support—travel, lodging, restaurants, food, gaming, sports, entertainment, and meetings—represent the largest industry in the Philadelphia region and our leading economic driver."
Students are able to choose from several majors including Culinary Arts and Food Science, and hone their skills at student-run facilities like the Academic Bistro, the Drexel Food Lab for R&D and product development, and the Dennis Gomes Memorial Casino Training Lab. The school is also committed to staying on trend with new courses and opportunities that capture the zeitgeist. In addition to its overarching Beverage Studies Initiative, late last year the school introduced a new Fundamentals of Beer course offering students, industry professionals, and enthusiastic novices the chance to learn about concepts from beer production to beer and food pairings. Meanwhile, Top Chef finalist and The Chew host Carla Hall tapped as a key partner in the development of a new chain of Nashville-inspired restaurants, where students will be able to train firsthand and learn the ropes of opening a restaurant.
8. Monroe College School of Hospitality Management and Culinary Arts
New Rochelle, NY
Based in New Rochelle in New York's Westchester County, the Monroe College School of Hospitality Management and Culinary Arts is a small private program dedicated to offering students a quality education through real world vocational training. The school offers not only Associate's Degrees in Baking & Pastry or the Culinary Arts, but also a Bachelor's Degree (BBA) in Hospitality Management plus the chance to enhance your degree with minors in Culinary Management or Tourism and Destination Management. Instruction is led by a strong faculty featuring five Chef Instructors certified by the American Culinary Federation. Meanwhile, at The Dining Lab and The Pastry Kiosk—a student-run Contemporary American fine dining restaurant and a student-run café and bistro respectively—students are able to cut their teeth in the kitchen and gain experience firsthand.
One especially innovative feature of Monroe College is its America's Best High School Chef and America's Best High School Pastry Chef competitions, which encourages and rewards young students hoping to break into the industry. High school seniors that have shown promise in the kitchen are selected to show off their chops and compete at Monroe College's School of Hospitality Management and the Culinary Arts, with the winners earning full or partial academic scholarships into the program including a semester abroad.
9. Southern New Hampshire University
Manchester, NH
Manchester-based Southern New Hampshire University gives students a high quality culinary education entrenched in a full college experience—students attend full time and take maths and liberal arts general education courses along with focused and American Culinary Federation-certified Culinary Arts courses in skill and nutrition. Throughout the year, students learn from award-winning faculty and gain experience in a range of cuisines at student-run fine dining restaurant The Quill.
"Our faculty members have dozens of years of experience, numerous awards, a love for competition and collaboration and a complete menu of professional certifications," states the school. "They have professional certifications and industry and academic experience. They are devoted to helping you learn and succeed."
Southern New Hampshire University students have gone on to work in a number of prominent kitchens across the country—from Radius in Boston all the way to Thomas Keller's French Laundry in Napa Valley and Traci Des Jardins' Jardinière in San Francisco.
 10. University of New Hampshire Thompson School of Applied Science
Durham, NH
The University of New Hampshire is deeply in touch with the world of food production on several levels—just this week, researchers from the school's College of Life Sciences and Agriculture program were presenting cutting edge research at the New Hampshire Farm and Forest Expo. Meanwhile UNH's Thompson School of Applied Science focuses on two specific aspects of the food industry: the Culinary Arts and Dietetic Technology. Students can either move onto a career with these applied science degrees or take the work further and continue on to a four year degree.
At the Thompson School, students have access to not only two student-run restaurants (the quick service Stacey's Express managed by Dietetic Technician students and the fine dining-centered 180 Blue managed by Culinary Arts students), but also a commercial kitchen to provide hands-on training for a career in larger scale foodservice. Under the guidance of ACF-certified faculty with real world experience, students learn practical and conceptual skills needed for strong careers ranging from executive chefs at five-star hotels to registered diet technicians developing better meal programs for patients in hospital care. 
Let's Connect!