Top 10 Conscious Retailers and Restaurants for Clean Eating in Melbourne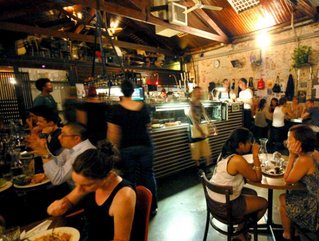 Clean eating and sustainability are some of the biggest trends in the global food scene today—and these trends ar...
Clean eating and sustainability are some of the biggest trends in the global food scene today—and these trends are well represented in Melbourne, at the heart of Australia's food scene. From ingredients like whole foods and raw cuisine to methods like local sourcing and sustainable packaging, these cafés and specialty grocers are dedicated to keeping it real.
1. Vegie Bar
Founded in 1988, Fitzroy's Vegie Bar is proud to stand as one of the first 100 percent vegetarian cafés in Melbourne. The café maintains its legacy as an institution and fan favorite to this day, staying true to its "food for the mind, body and soul" philosophy with a wide selection of beautifully crafted vegan and raw dishes from pizzas and pad thai to organic wine and gluten-free beer.
"We have always strived to show case vegetarian cuisine to a wide audience," states Vegie Bar manager Mark Price. "We adhere to an ancient and somewhat forgotten principle that 'food is for sustenance.' But in our case it must also be ethical and tasty. Too many people eat for pleasure only, where as we aim to cover both—pleasure and sustenance."
This year, Vegie Bar will be reaching an even wider audience—its owners are on the verge of opening a new eatery, Transformer Fitzroy, featuring a more upscale small-plate take on vegetarian cuisine.
2. Supercharger
According to Supercharger founder Paul Mathis, 12 percent of people now consider themselves vegetarian or vegan. Supercharger's goal is to cater to that rapidly growing demographic with a tasty rainbow-colored cornucopia of plant-based raw and fermented foods. Operating on a customizable model, Supercharger meals start with a base of brown or Basmati rice, pumpkin or potato mashes, or baby spinach and quinoa—from there, customers can add on nutritious and satisfying superfoods to their heart's content. Customers can also sample smoothies and juices, served in sustainable and recyclable glass jars.
"Supercharger was born out of the need to create another option for people in mainstream shopping centres, and to show how amazing beautiful real bountiful food can be without the need to cause in harm to any sentient creature," explains Mathis. "Supercharger also set out to show people that absolutely all the plant based food groups are available and armed with all the necessary nutrients that are required for humans to thrive and feel truly alive—a window into where our dietary future may be in when, we finally achieve that higher state of wellness."
3. Green Press
Alice Springs natives James and Miles McLoughlin moved to Melbourne with training in the New York restaurant industry and a passion for putting that experience to work by changing the health food game. The brothers opened Green Press in 2013, producing unrivaled cold-pressed juices and cleanses along with unique and thoughtful raw salads and acai bowls with the intention of changing conceptions about what a healthy diet can be—and taste like. The shop also goes the extra mile by bottling its juices in glass, then lowering environmental impact even further by offering an incentive for customers who bring their bottles back to be reused.
"With Green Press, we wanted to cater for all dietary requirements, and not put anything on our shelves that we wouldn't eat ourselves," says James McLoughlin. "After seeing for myself the difference eating well can have, it's our mission to revolutionise the lunch break. We make hand-crafted, home-made organic food, created by Michelin trained chefs. Not many cafés can claim that. Green Press is real food with real flavor."
4. Pressed Juices
At its best, juice is a nutrient-packed health boost—at its worst, it's little more than liquid sugar. Pressed Juices, Australia's first cold-pressed juice shop, was founded as a space for good health and a response to health foods and beverages that are more about flash and flavor than substance.
"As we began to develop Pressed Juices and gain a deeper understanding of food and beverage offerings around Australia, our disappointment heightened as we came to understand just how flooded our food market is with products that have been altered, modified and coloured by process or chemicals," reads the company website. "Pressed Juices believe that by promoting good nutrition via a product that is natural and free from pasteurisation, preservatives or sweeteners, we give people the opportunity to embark on a positive journey, mentally and physically."
Available in multiple stores throughout Victoria, NSW, South Australia and ACT, Pressed Juices outlets offer individual juices, cleanse regimens, and a menu of fresh raw options. In reverence of its mission, Pressed Juices employs a full team of dedicated nutritionists and regulatory specialists to ensure that its products live up to their intentions. Beyond this, the juice brand's sustainability initiatives and work with local farmers keep its menu mindful of the earth's health as well as its customers.
5. Yong Green Food
"At Yong, we serve predominantly organic vegetarian food prepared according to ying and yang principles and using eco-friendly methods as much as possible," states Yong Green Food. Built around this mantra, the Fitzroy outpost offers organic, primarily vegetarian, and raw foods with an edge of creativity and fun. Think hearty curries and tofu katsu bowls, raw nachos and Hawaiian "live" pizza, and spicy wasabi soba noodles. There are also raw caramel squares and vegan cheesecake slices, for anyone who thought that raw organic food couldn't also be tantalizingly decadent.
Yong Green Food's commitment to consciousness goes beyond organics and clean eating. "Through Community Climate Chest, we have purchased 8.7 MWh of accredited GreenPower to be supplied to the national electricity grid to replace the energy we draw," notes the Yong Green Food website. "We have also acquired 0.21 tonnes of carbon credits from certified abatement projects. This reduces our greenhouse emissions by 11.95 tCO2-e for the 12 months to March 2015." In addition, Yong donates 10 percent of all profits to support farmer-managed natural regeneration in Kenya in an effort to promote food security worldwide. 
6. Thomas Dux
With multiple locations throughout Victoria and New South Wales, Thomas Dux is a retailer that wants to inspire a "passion for food" in its consumers. Its approach to this concept is by offering a wide range of high quality foods and ingredients catering to any number of tastes and special diets. By color coding and ticketing products that fit into categories like organic, free range, vegan, gluten free, and preservative free, the grocery chain takes the guesswork out of grocery shopping, helping consumers quickly and easily find favorites and try new delicious products without having to worry about whether or not those products will fit into their special needs.
In addition to its ethical commitment to its customers, Thomas Dux also helps provide those in need access to quality food by donating unsold products to organizations like OzHarvest and SecondBite.
7. The Staple Store
Catie Gett opened The Staple Store in Melbourne's Ripponlea suburb in 2012, with the hope of "creating a space that epitomises the nature of health and happiness." In practice, that translates to a cozy store packed with high quality whole food-based products, from nut butters and superfood powders to jarred ready-to-cook soups and lentil mixes free of all chemicals, preservatives, or artificial colors.
Gett's project is committed to working with sustainable, local, organic and biodynamic sources to stock its shelves, and passes that ethic on to consumers with a mandate that all packaging should be reused or recycled. It's a concept that consumers have taken to, catching on to the point where an adjunct online e-commerce shop was launched in 2013 to keep up with demand.  
8. Nutrition Bar
Consumers can't always slow down for slow food, and sometimes that means compromising or settling for quick and mindless fast food. But Melbourne's Nutrition Bar gives busy people a more conscious alternative. Located on Swan Street in Richmond, Nutrition Bar is a compact shop that takes a grab-and-go approach to clean eating, offering an array of cold-pressed juices and smoothies, creative acai bowls, chia puddings, salads and more all packaged and ready to go. Fans know to finish a meal with sweet truffle-like superfood balls as an extra protein-packed treat.
9. Combi
Combi offers a laid-back beach vibe, but there's nothing slacking about its approach to conscious cuisine. The Elwood café's sprawling menu starts with cold-pressed juices and smoothies, then goes above and beyond with conscious bites from luscious fruit and edible flower-topped acai bowls to sandwiches on thick cut sprouted, gluten-free or sourdough bread.
"We take pride in our lengths we go to ensure we deliver an earth to table experience," Combi states on its menu, putting its ethics front and center alongside its flavors. "We work closely with growers, coffee roasters, producers and suppliers to bring seasonal, sustainable, organic and ethical meals/beverages to you."
10. Patch Café
The Paleo Diet is indisputably hot right now. Patch Café, Situated in the historic Studio Nine building in Richmond, takes the trend and infuses the cuisine with a sense of rustic warmth and cool city style. "Designed by Studio You Me, Patch is intimate, inviting, warm and values unpretentious elegant simplicity at its core," reads the Patch Café site.
Beyond the curated space is a menu offering sweet breakfast treats like banana & almond hotcakes to savory mains like duck salad or grass fed chimichurri-style sirloin steak. Pleasing to both the eye and to a recovering wheat belly, executive chef Brett Tait's artful Paleo-inspired plates have led the shop to well-earned accolades as one of the hottest Melbourne cafés of 2014.
…And One More: Native Box
Native Box isn't a brick-and-mortar retailer, but the Australia-based business is taking advantage of the recent "subscription box" trend to introduce consumers to a range of better-for-you foods every month. The company selects healthy and sustainable products, taking care to locally source from Australian businesses—past boxes have contained samples from Ajitas Vege Chips, Cobs Popcorn, and Green Grove Organics.
"The Australian Organic Industry is estimated to be worth $1.7 billion at the close of 2014 and growing at 15% YOY," states Native Box. "However, organic production is only 1.25 percent of conventional production, with demand outstripping supply by up to 40%. There is tremendous opportunity to help Australians get to know organic brands, educate them how to choose, eat and live healthier. This is absolutely in line with our vision at Native Box which is to lead in cultivating a better Australia by advocating green lifestyle choices thereby uplifting quality of life and overall happiness."