Top 10 biggest brewing companies around the world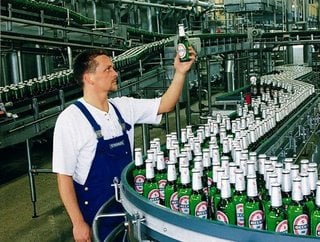 10. Boston Beer Company The growth of the craft beer market has continued to be good news for Boston Beer Company, better...
10. Boston Beer Company
The growth of the craft beer market has continued to be good news for Boston Beer Company, better known to consumers by its brand name Samuel Adams. Thanks to the massive growth and consumer demand within this sector, Boston Beer Company produced 2.5 million barrels and reported $793.7 million in revenue for its 2013 fiscal year, more than a 200 million dollar difference over the year before.
9. Yuengling
East coasters are all too familiar with Pennsylvania-based Yuengling – the family owned brewery is a staple of the region. Yuengling prefers to keep revenues and profits out of public knowledge, but experts know the brand is a valuable one thanks to its strong brand name recognition, low costs and high sales. This year the Brewers Association named it the fourth largest United States brewery in terms of sales volume.
8. Asahi Breweries
Japan's largest beverage company has enjoyed a strong year due to economic recovery and a renewed focus on brand promotion. Asahi's 2013 fiscal year saw a modest 0.4% sales increase in its alcoholic beverage segment that the brand attributes to a rising consumer demand for the first time in more than a decade.
7. Tsingtao Brewery Co. Ltd.
China's second largest brewery continues to command the global landscape, both in China and abroad and into the Western market, almost entirely on the strength of a single brand name. Tsingtao Brewery Co. saw significant growth in its 2013 fiscal year, posting year end revenue of $4.6 billion (28.3 billion RMB).
6. China Resource Enterprise
Unlike Tsingtao, Chinese brewing company China Resource Enterprise is quiet and all but completely unknown to Western consumers even in spite of its joint venture partnership with SAB Miller. This hasn't stopped the blue chip brand from tackling a significant portion of the global beer market share through brands like CR Snow.
5. Pabst Brewing Co.
Pabst Brewing Company may be a hipster staple, but it's also a thriving brand that has grown substantially in recent years due to its pop culture status. Private company Pabst is another brand that keeps its financials close to the vest. Nevertheless, this year the Brewers Association named it the third largest brewing company in the United States, following only Anheuser-Busch and MillerCoors in terms of sales volume.
4. Carlsberg Group
Carlsberg's reign as one of the top four leading macro brewing companies in the world is still going strong, as evidenced by its solid 1% sales growth in 2013, which the brand attributes to rising interest in the Asia market. In its 2013 fiscal year, Carlsberg Group reported revenue of $12.1 billion (66.6 DKK).
3. Heineken NV
It has been a good year for Heineken, propelled by strong advertising like its "Man of the World" campaign and campy "Legends" ad starring a seamless progression of twenty actors in one role. Between its flagship brand and supporting players like Tecate and Newcastle, Heineken reported 1.3% growth in revenue over last year bringing the brand to $28.9 billion (21.3 billion Euro) over its 2013 fiscal year.
2. SAB Miller
While there is still talk of SAB Miller merging with AB InBev, thus far the brand is still holding its own. Between its MillerCoors joint US operations venture with Molson Coors and attempts to diversify and insert itself into the liquor and craft beer landscapes, through new launches like spirits-reminiscent Miller Fortune, the company has managed to keep a firm grip on the second largest chunk of the world's beer market share by volume.
1. Anheuser-Busch InBev
Once again, Anheuser-Busch InBev reigns supreme in the beverage category. With a mass of important brands, from Budweiser and Busch to craft brands like Goose Island, AB InBev is stiff competition for any other brewing company. Controlling more than a full fifth of the global market share, $43.195 billion in its 2013 fiscal year. The year to come should prove even bigger as AB InBev has enjoyed the benefits of an even bigger branding advantage than usual: its role as a key sponsor of the 2014 World Cup, which led to an overturn of Brazil's longstanding ban against drinking during soccer games and a further rise in beer sales.