Top 10 Best Food Festivals in the World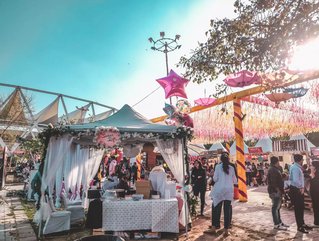 Our countdown of the best, biggest, and strangest food festivals across the globe
Top 10 Best Food Festivals in the World
The world of food festivals isn't just Michelin-star chefs and world class cooking; it's also food fights, pizza acrobatics and national cherry queens.
Take a look at the biggest, best and craziest food festivals the globe has to offer, from quaint Great British towns to German craft beer extravaganzas and beyond.
There's no particular order here, more a bucket list of fun and bizarre experiences for food lovers everywhere.
 
1. Cooper's Hill Cheese Roll, England

We'll start with the most dangerous festival on this list. Cooper's Hill in Gloucestershire plays host to the Cooper's Hill Cheese Roll, which effectively sees dozens of people throw themselves down said hill in pursuit of oversized wheels of Double Gloucester cheese. 
Many broken bones have resulted, although fortunately no-one has died at the Cheese Roll in its 195-year existence so far (although eight people were hit by lightning during the 1982 edition). Thousands of people line the sides of the hill every year to watch the competitors, the best of which is 22-time winner Chris Anderson (who doesn't like cheese).

2. Oktoberfest, Germany

Oktoberfest is probably the biggest beer festival in the world, but you can certainly get food too. More than 13 million pints are poured at the festival in Munich each year - how else are you going to line the stomach after that much beer? Luckily, the festival has you covered, with 280,000 sausages consumed every single year too - that's a lot of bratwurst! 
There are tons of local dishes also associated with the festival though - roast chicken, grilled fish and pretzels are all also eaten in their thousands. Oktoberfest really is a food and drink festival, making Munich upwards of $1 billion in tourism alone each year.

3. Isle of Wight Garlic Festival, UK

The Isle of Wight Garlic Festival does sell other foods but it was set up primarily to celebrate the island's garlic-producing heritage. On top of all the garlic products (including mushrooms, mayo and cheesy bread), tomatoes, fudge and doughnuts are also sold. The two-day event doubles as a fun fair and a music festival too!
Chewing gum compulsory, vampires need not attend.

4. Pahiyas Festival, Philippines

This one's as much a feast for the eyes as it is the taste buds! Hosted on May 15th to commemorate the patron saint of farming, you will be inundated with colour from the moment you arrive in Lucban - either from birds, banners, or the street food itself. 
Lucban's delicacy, Pancit Hab-hab, is served straight into a banana leaf, with multiple other multicoloured sweets and local meats. There's also an afternoon parade so vibrant that the streets resemble Rio de Janeiro instead - indeed, you could leave Lucban and celebrate the festival anywhere in the Philippines.
 
5. Mid-Autumn Festival, China

This festival is celebrated every year on the 15th day of the 8th month of the lunar calendar - when the full moon is at its fullest and brightest. It is held in honour of the annual harvest, as well as the goddess Chang'e, who made the moon her home according to legend.
Mooncakes are the food most associated with the event - round cakes that differ in filling between regions (in Hong Kong they are stuffed with lotus seed paste and salted duck egg.) Other than food, the Chinese celebrate with dances and lantern festivals, while the Vietnamese also join with the festivities - they see the event as a celebration of children.

6. Pizza Village, Italy

More than one million people a year visit Napoli Pizza Village, a festival that converts the coastline of Naples into the biggest open-air pizzeria in the world (it sprawls out for more than a kilometre). 
Besides the live music, dancing, and all-you-can-eat pizza, the event also includes the Pizza World Championships, or one of them at least - Parma and Paris also claim to host it. These particular championships feature nine different categories of pizza and dozens of top chefs, while 'pizza acrobatics' - a combination between pizza spinning and gymnastics - is also judged.

7. National Cherry Festival, USA

The National Cherry Festival is Traverse City, Michigan's unique way of celebrating the sheer amount of the fruit it makes each year - 90,000 tons of cherries, to be precise. 
The festival sells cherry pies, cherry yoghurt pretzels, and even plush cherry toys. It of course also crowns a new National Cherry Queen every year, who goes on to tour the US preaching the benefits of Michigan's favourite fruit. People don't just attend for some healthy eating, however; there's also live music, with Nelly having previously performed there.
 
8. La Tomatina, Spain 

It may not be a festival as such but La Tomatina is the biggest food fight in the world. The fun began when an argument between two farmers got out of hand in 1945, and 22,000 festival-goers have descended on Bunol in Spain to recreate the ensuing town-wide food fight every year since. The festival is held on the last Wednesday of every August, with six massive trucks used to throw 160 tons of tomatoes onto the streets.
 
9. Abergavenny Food Festival, Wales

This iconic festival runs for three days in September, and attracts around 30,000 visitors and 220 food stalls. The event, which aims to showcase the best of local food and drink, brings £4 million into the economy of the small medieval village every year. The festival features live music, cookery classes and tasting sessions, alongside less conventional forms of entertainment - such as doughnut eating competitions, where competitors must eat a whole doughnut hanging from a string without the use of their arms...

10. The Lopburi Monkey Festival, Thailand

Otherwise known as the Monkey Buffet Festival, the Lopburi event is held every November to honour the 2,000 crab-eating macaque monkeys that live locally. This is done by feeding the monkeys every day, which often leads to a lot of problems; monkeys flooding the street, stealing sunglasses, and chewing telephone wires in the search for more food. That doesn't stop the macaques from being fed though, as the monkey is revered as a hero in the Buddhist tradition. As well as food, dances and parades are held to celebrate Lopburi's many monkeys.