[VIDEO] New Sainsburys Christmas Ad Evokes WWI and an Avalance of Feelings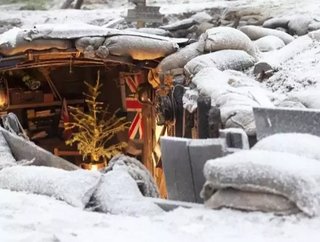 Is it time for Christmas advertising already? It would appear that it is, because today UK retailer Sainsburys launched this years official Christmas te...
Is it time for Christmas advertising already? It would appear that it is, because today UK retailer Sainsbury's launched this year's official Christmas television ad spot, called "Christmas is for Sharing." If you like emotional ads that leave you crying at your desk, this one is on the level with lonely dogs, cute families, and Thai life insurance ads. What's more: it's based on real life events.Brace yourself for feelings:
2014 marks the 20th anniversary of Sainsbury's partnership with the Royal British Legion, and the hundredth anniversary of the Christmas Truce of 1914 — it makes sense, then, to tell a story that pays tribute to both. Sainsbury's campaign page relates the history of the real event that takes place within the ad:
On Christmas Eve, men from the British Expeditionary Force heard German troops in the trenches opposite singing hymns and patriotic songs. Messages were shouted between the trenches and, the following day – Christmas Day, an impromptu truce was arranged. The dead were buried, trenches were repaired, and both sides met in no-man's land to exchange gifts, take pictures and even play football.
While of course the characters and particulars of the event are fictionalized, Sainsbury's worked with the Royal British Legion to make the ad as accurate as possible from the uniforms and the build of the trenches to the chocolate tin and the British soldier's biscuit. To make the project more than just a Sainsbury's seasonal ad, the retail chain also created an accompanying web documentary using real diaries and interviews to highlight the actual events of this Christmas story:
Sainsbury's will be selling the chocolate bar depicted in the ad at all locations, with all profits going to he Royal British Legion to benefit British armed forces and their families. Sainsbury's launched the ad spot on Youtube via Twitter, as well as on TV during Coronation Street, and so far the internet's response seems to be overwhelmingly positive:
Well played, Sainsbury's. A seasonal campaign well done.