Turner Price launches first B2B foodservice marketplace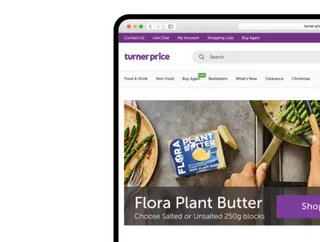 Turner Price, a family-owned delivered food wholesaler, has created the first B2B foodservice marketplace in the UK
Turner Price, a family-owned food wholesaler, has created the UK's first wholesale B2B foodservice marketplace.
This will offer caterers access to more than 10,000 products, where Turner Price hopes to stock 50,000 products. The company is based in Hull, UK, with a revenue of £60m.
Traditional marketplaces transformed 
In 2021, 80% of B2B buyers expect a similar experience offered on B2C websites and 50% of B2B buyers choose to make work-related purchases on B2C sites.
The traditional wholesale model comes with restrictions and Turner Price's new marketplace has been developed with customers' expectations in mind.
The marketplace will bring together sellers who offer:
Food and drink

Catering equipment and accessories

Tableware and kitchenware

Clothing and more
Turner Price continues to transform wholesaling
Turner Price has used the Mirakl Marketplace Platform to intertwine first-party and third-party products, for a simple and convenient shopping experience for customers.
"The marketplace model was a no-brainer for us, as we lead the way in digital innovation in the sector and transform wholesaling to deliver the very best service to our customers," says Julian Owen, Director of Sales Marketing at Turner Price. "Like many sectors, catering experiences fast-moving trends and customers want to tap into these, while also having a broader choice of products. Marketplace is changing the paradigm of traditional wholesale and our marketplace, powered by Mirakl's leading technology and expertise, is unlocking greater revenue, better customer relationships and pushing our business ahead of the competition."
The family company is ready to continue in its expansion through innovation. 
"Turner Price is driving digital disruption in the food and beverage wholesale sector in the UK and the marketplace is already bringing strong results, including record website traffic", said Marc Teulières, EVP, Customer Success B2B at Mirakl. "Working alongside Turner Price to set up the first food service marketplace is a strong signal that the UK B2B market is ready to embrace the marketplace model as a means to innovate, drive growth and digitally transform."