Starbucks Partners with Duracell Powermat for Wireless Phone Charging Program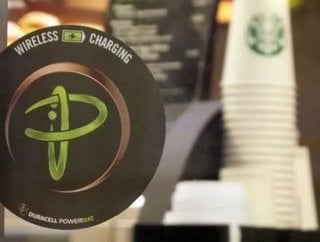 Starbucks is working to improve the customer experience, and its latest program doesnt involve coffee. The coffee shop chain has announced a plan to rol...
Starbucks is working to improve the customer experience, and its latest program doesn't involve coffee. The coffee shop chain has announced a plan to roll out Duracell Powermat wireless smartphone charging at its stores.
"From WiFi and the in-store Starbucks Digital Network to mobile payment and digital music downloads, we have always tried to anticipate our customers' needs early in the adoption curve and provide a world-class solution. We are thrilled to offer our customers that next level of convenience with Powermat wireless charging. Rather than hunting around for an available power outlet, they can seamlessly charge their device while enjoying their favorite food or beverage offering right in our stores," said Adam Brotman, chief digital officer at Starbucks, in a press release issued by the brand to announce this new development. "We were pleased with the customer response to the pilot tests, and we're now expanding this offering nationally to provide our customers a quality and reliable experience as they use our stores as their respite, their office away from home or as a gathering place with their friends and family."
This is pretty exciting news, although there is a small catch – while they don't require a power outlet, Powermat spots can't charge just any phone they're given. While they work with PMA standards, customers will need a compatible phone and phone case or charging ring to make the technology work. So it won't be a universal benefit to everyone – but for those who are interested, it's a big step forward in high tech convenience.
"Powermat Spots in Starbucks are the result of almost a decade of scientific research spanning material sciences, magnetic induction and mesh networking," said Ran Poliakine, CEO of Powermat Technologies.   "The two-pronged power-plug dates back to the era of the horse drawn carriage, so that today's announcement marks the first meaningful upgrade to the way we access power in well over a century."
According to reports, Starbucks has plans to start installing "Powermat spots" on counters and tabletops at its shop locations. The program thus far has launched in select stores in Boston and San Francisco – launching in tech-centric San Francisco in particular is an especially smart move, populated with many who will likely already own (or be more than willing to try) the peripherals needed to make the Powermat spots work.
From these pilot locations, Starbucks has plans for a full nationwide rollout at Starbucks and Teavana outlets across the United States, hitting all major markets by 2015. The chain also has plans to test the program in Europe and Asia as well within the year.
Check out a list of Powermat-enabled Starbucks locations here: http://powermat.com/locations
[SOURCE:http://www.powermat.com/announcements/national-rollout-wireless-charging-duracell-powermat-begins-starbucks/ via http://mashable.com/2014/06/12/starbucks-wireless-charging-san-francisco/]