Ocado to use humanoid robots in its warehouses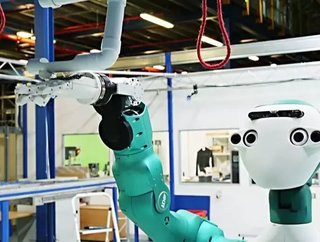 Online supermarket Ocado is set to roll out an autonomous robotto help engineers fix mechanical faults in its factories. The firm's latest robot has...
Online supermarket Ocado is set to roll out an autonomous robot to help engineers fix mechanical faults in its factories. 
The firm's latest robot has a human-like torso, arms with eight degrees of freedom, hands that can grip and a head with cameras inside. Resembling Star Wars' C-3PO, it also has speech recognition software and uses a large wheeled base to help it move around.
Named ARMAR-6, the humanoid bot is being developed as part of the European Commission's SecondHand's Project and aims to assist engineers looking after the company's automated warehouses.
SEE ALSO:
By using artificial intelligence the robots can predict the technician's needs and hand them tools or move ladders or bolts.
The robot isn't designed to replace workers but rather hopes to work alongside them within the retailer's automated warehouses. 
"The ambition is that the robot will be able to decide what the technician's intentions are and chip-in as appropriate at the right point in time," said Graham Deacon, the robotics research team leader at Ocado Technology.
To this end, ARMAR-6 uses its camera systems to detect and recognise workers, objects and its surroundings; uses speech recognition software to understand commands, and its hands are able to pick up and grasp objects. 
Development of the robot is being carried out by a number of universities, including the Institute for Anthropomatics and
Robotics at the Karlsruhe Institute of Technology (KIT), University College London, the Ecole Polytechnique Fédérale de Lausanne, and Sapienza University. 
The robot is currently still a prototype but getting to this point has taken over two and a half years. 
Online retailer Ocado, which delivers groceries for UK supermarkets such as Waitrose and Morrisons, has invested millions of pounds in developing technology to manage home deliveries for global grocery retailers. 
 
The retailer has already automated large parts of its warehouse operations. For instance, its 90,000-square-metre Dordon warehouse, near Birmingham, has 8,000 crates moving around it at any one time, across 35 kilometres of conveyor belts. 
 
In November, the British online supermarket also signed an international contract to develop a robotic warehouse for French supermarket Groupe Casino.
 
Its latest warehouse in Andover, Hampshire, uses hundreds of battery-powered robots to shift boxes of groceries stored in a giant grid.
 
The group has also revealed that it is developing packing robots which can grasp many types of products, including potentially dangerous bottles of bleach to fragile produce like avocados and eggs.