Morrisons reduces cost of 1,000 popular products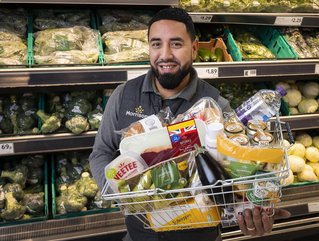 Morrisons says its cost cutting measures are supporting its customers through the January squeeze and ongoing cost of living pressures.
Morrisons has announced it has reduced the price of 1,000 of its popular products for a minimum of eight weeks to support its customers through the January squeeze and ongoing cost of living pressures.
The supermarket chain says it is offering customers an average saving of 20 percent, the latest move sees prices reduced and locked on fresh produce, cupboard essentials and family meals to help customers purchase quality products at a price that will help make their money go further. Household brands such as Warburtons, Patak's and Dettol are included alongside Morrisons own brand products.
The products that have been lowered and locked include items such as sirloin steaks, fruit and vegetables including potatoes, pears and aubergines, sandwich fillers like ham and chicken as well as sweet treats. Household essentials such as kitchen rolls, shampoo and washing detergents are also included.
Earlier this month, Morrisons cut the price of 130 of its lowest priced Savers products including fresh items, freezer favourites and household essentials. It also offered a 5p off a litre of fuel promotion, highlighting its commitment to reducing prices wherever possible to support customers during this challenging time.
The January investment follows additional price initiatives at the end of 2022 including reductions to the price of popular café meals, cuts to the prices of key festive products and the introduction of My Morrisons Exclusives for My Morrisons members.
David Potts, Chief Executive, said: "Today's cuts demonstrate our continued commitment to doing all we can to help when it comes to the cost of grocery shopping. In addition to the cuts we made to the Savers range at the start of the month and then our fuel promotion, we're now cutting the price on even more popular products to help make a positive difference to the pockets of our customers."