Kroger and Drone Express partner for flying deliveries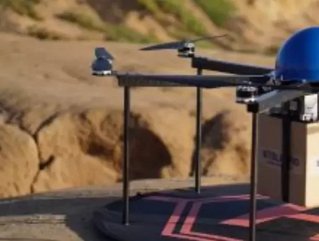 Kroger has started a drone delivery service with Drone Express, to bring customers in Ohio lightweight essentials, wherever they are
Food retail company Kroger has just partnered with Drone Express, a division of TELEGRID Technologies, in an innovative pilot service which will deliver groceries to customers by drone. The drones will be flown by certified drone pilots under FAA approval, to ensure security of the food and safety of the customers and Kroger employees. 
The pilot programme took off in Centreville, Ohio, USA this week, delivering bags of rice. It is expected to be rolled out elsewhere in the USA in the future. 
Grocery flying with Kroger's drones
Ohio is the birthplace of aviation, where Orville and Wilbur Wright first took flight in 1903. Kroger was also founded in Ohio, in 1883. This week began a new chapter in Ohio's history of both aviation and of Kroger, as the first drone delivered a food parcel. 
Although many may oppose the invasive buzzing, drone delivery benefits include:
Huge flexibility, as deliveries are sent to the customers smartphone, not necessarily an address. If a customer is on a country walk, they can order a snack and have it dropped to their location. 

Instant delivery, as customers can order and receive their package within 15 minutes, it's ideal if you have forgotten a friend's birthday.
However, drones are not an alternative for shopping. The current weight limit is 5 lbs/ 2.2kg, which will not cover a weekly shop. 
Kroger claims this is enough, for example, for a baby care bundle, comprised of wipes and formula.
Kroger embraces e-commerce evolution
Since the concept of shopping, retailers have been keeping up with modern inventions and new efficient processes which enable consumers to connect with them. Drone delivery is the next stage.
"Kroger's new drone delivery pilot is part of the evolution of our rapidly growing and innovative e-commerce business – which includes pickup, delivery, and ship and reached more than US$10 billion in sales in 2020," said Kroger's Jody Kalmbach, Group Vice President of Product Experience. "The pilot reinforces the importance of flexibility and immediacy to customers, powered by modern, cost-effective, and efficient last-mile solutions. We're excited to test drone delivery and gain insights that will inform expansion plans as well as future customer solutions."
"Autonomous drones have unlimited potential to improve everyday life, and our technology opens the way to safe, secure, environmentally friendly deliveries for Kroger customers," said Beth Flippo, Chief Technology Officer, TELEGRID. "The possibilities for customers are endless – we can enable Kroger customers to send chicken soup to a sick friend or get fast delivery of olive oil if they run out while cooking dinner."
From its track record, the first teleported chicken soup will be trialled in Ohio.