How (and why) Chipotle Mexican Grill went fully GMO-free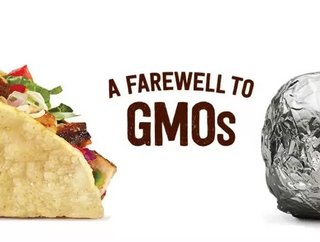 Its a big month for Chipotle Mexican Grill. Last week the burrito chain announced its Q1 2015 results, and its a report filled with highlights—Chi...
It's a big month for Chipotle Mexican Grill. Last week the burrito chain announced its Q1 2015 results, and it's a report filled with highlights—Chipotle increased its revenue 20.4 percent to $1.09 billion, with a comparable restaurant sales increase of 10.4 percent and a 47.6 percent net income increase to $122.6 million, even in the midst of a carnitas shortage crisis. "We are very proud of our start to 2015, as our average sales volumes reached a record $2.5 million per restaurant," said Chipotle founder and co-CEO Steve Ells when announcing the chain's first quarter results. "We attribute this success to our unique food culture and people culture, which are the driving forces to create a new fast food model."
But even bigger news was not far behind. Today the chain dropped a bombshell announcement that will resonate with consumers and industry peers alike—Chipotle has officially reached its goal of going 100 percent GMO-free for all of its ingredients at all United States Chipotle and ShopHouse location.
"There is a lot of debate about genetically modified foods," said Ells. "Though many countries have already restricted or banned the use of GMO crops, it's clear that a lot of research is still needed before we can truly understand all of the implications of widespread GMO cultivation and consumption. While that debate continues, we decided to move to non-GMO ingredients."
According to Chipotle, the chain decided to eliminate GMOs from its menu for three reasons:
The long term implications and health effects of GMO consumption are still being tested and debated;
GMOs engineered to be herbicide and pesticide-resistant have led to "an escalating arms race" and the introduction of stronger agrochemicals as weeds and pests grow ever more resistant; 
Chipotle wanted to give consumers with concerns over GMOs access to a fast, affordable, and confidently GMO-free QSR dining choice. 
Actually achieving GMO-free status is not exactly an easy feat for a major national chain in the United States, where so many basic commodities from canola oil to soy and corn are largely genetically modified. Chipotle managed to achieve its goal largely by working closely with its suppliers—planting non-GMO corn to meet standards, trading in soybean oil (largely made from genetically modified soybeans) for sunflower oil or rice bran oil, and using organic non-GMO soybeans to produce tofu for its sofritas. 
But even in the wake of this announcement, Chipotle's not content to rest on its laurels just yet. Next up for the chain: developing a tortilla recipe with simpler ingredients and no additives. The chain is also struggling to tackle GMO issues that occur higher up the supply chain—after all, as the chain itself admits, most livestock feed is made from genetically modified corn and grain. So while the meat and dairy at Chipotle isn't genetically modified in and of itself, it's likely that the animals that meat and dairy came from were raised on a GMO diet at one point in their lives. Definitely progress is being made by switching to grass-fed beef and higher standards for its pork suppliers, but there is still a lot of work left to do before the brand will be fully satisfied. 
"We are changing the way people think about and eat fast food, and that means cooking with the very best ingredients – ingredients that are free of additives – but still serving food that is affordable, convenient, and most importantly delicious," said Ells. "That's really unusual in fast food, but that's the quest we are on, and we continue to make progress."