Food retail store Tesco launches zero-waste trial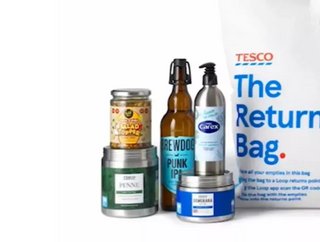 Supermarket chain Tesco is to trial its zero-waste shopping service at 10 food retail stores, with help from reusable platform Loop
UK supermarket Tesco has launched a new way for its customers to shop, that allows them to buy a wide range of food, drink, household and beauty products, in reusable and durable packaging.
In partnership with global reusable packaging platform, Loop, customers in ten large Tesco stores in the east of England will be able to buy products in reusable packaging that can be returned to store when finished so it can be cleaned, refilled and used again.
Tesco is headquartered in Hertfordshire and has a revenue of £64bn. 
Tesco and Loop offer customers and reusable range
The new reusable range of 88 products will include some of the UK's biggest and most popular brands, including:
Persil

Fever-Tree

Carex

Tetley Tea 

BrewDog
Tesco has included 35 own brand essentials in the range, such as pasta, rice, oil and sugar, with even more products set to be added to the range throughout the year.
Customers wishing to opt for reusable packaging simply visit the Loop fixture in the store and add the products they want into their trolley as a part of their shop. The Loop range comes ready prefilled in the perfect container for that product, so there's no need for customers to bring their own containers or refill themselves.
Prices for the contents of each item are comparable to the original. A fully refundable deposit starting at £0.20 is paid on each reusable product at checkout and this is refunded via an app when the customer returns the packaging to a collection point in the store.
Tesco is not the first supermarket to enter into zero waste - in 2019, one Waitrose store in Oxford began 'Waitrose Unpacked', offering customers the opportunity to bring their own reusable containers for items ranging from coffee and beer, pasta and cereals.
Loop Ambassadors will be available for Tesco customer questions 
According to Tesco's research, the impact of switching just three items of the weekly shop could be enormous: if customers in the 10 stores switched their recyclable tomato ketchup, cola and washing up liquid bottles to the reusable Heinz Tomato Ketchup, Coca-Cola and Ecover alternatives, the packaging would be used and reused more than two and a half million times a year.
But after a great period of change for supermarkets, with outdoor queues, masks and social distancing, this is another new element for customers to grow accustomed to.
For some customers, such as those with young children, mobility issues, or on a time budget, this could be inconvenient.
For those with germ phobias, it could cause anxiety. 
To help Tesco customers, Loop Ambassadors will be on hand to explain what Loop is and how it works.
"The consumer reaction to Loop in these first Tesco stores will prove pivotal in refining the Loop offering and ultimately we hope to scale reuse across more stores and the number of product lines available", said Tom Szaky, founder and CEO of Loop and TerraCycle. "Tesco is the perfect partner to bring Loop to retail in the UK due to its commitment to sustainability, in combating plastics waste and in its operational scale as the UK's biggest grocery retailer."
Tesco is tackling the impact of plastic waste through its 4Rs strategy:
Remove plastic where we can

Reduce it where we can't

Reuse more

Recycle what's left
"We are determined to tackle plastic waste and one of the ways we can help is by improving reuse options available to customers", said Ken Murphy, Tesco Group CEO. "Bringing Loop to our stores is a significant milestone in this journey. With 88 everyday products available, we're giving customers a wide range of options and we'll learn as much as we can from this to inform our future packaging plans."