Chipotle Reaches Out to Job Seekers with Mobile Application Program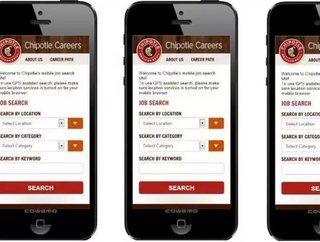 Chipotle Mexican Grill is a business that stakes a significant portion of its reputation on building an overall strong corporate culture. The chain's...
Chipotle Mexican Grill is a business that stakes a significant portion of its reputation on building an overall strong corporate culture. The chain's executive team speaks frequently about its commitment to sourcing its managers internally and promoting its best employees to grow within the company. But as Chipotle grows, it also has to use every resource available in order to find the best employees possible. To help achieve this, Chipotle has launched a new mobile job application program with the aim of widening its recruiting net by letting job seekers apply through their mobile devices.  
"We are always looking to find top-performing candidates for jobs in our restaurants, and support departments," said Monty Moran, co-CEO of Chipotle. "To get the very best applicants, it's important to be accessible using the platforms that people are using. Increasingly, that means mobile."
When talking about applications, it can be easy to think in terms of the ubiquitous downloadable mobile app. But in Chipotle's case, employees aren't mean to look in Google Play or iTunes to kickstart a career at the chain. This program involves Chipotle upgrading and optimizing the careers portion of its website to be fully compatible with mobile devices from tablets to smartphones, allowing interested persons to browse open positions from the local to corporate level and apply electronically wherever they are (including while eating a burrito at an actual Chipotle location).
Chipotle reportedly worked to develop the app in conjunction with Jibe, a New York-based tech company specializing in cloud-based recruiting technology. It certainly makes sense as the way to go—young people in high school or college make up a core portion of the demographic who would be interested in an entry-level position at Chipotle, and those young people especially conduct their lives online and on mobile devices at a rapidly growing rate:
Chipotle's move to include mobile applications comes as mobile Internet access is on the rise. According to a Nielsen study on "the new digital consumer," adults in the US spend 34 hours per month on average on the internet using a smartphone, compared with 27 hours online using a computer, and the Pew Internet Research project notes that nearly two-thirds of cell phone owners use their phone to go online, with one-third of cell internet users using their phone as their primary internet device.
Instead of forcing this demographic to conform to more rigid application standards, allowing potential employees to apply on their own terms could give Chipotle the pool it needs for a growing brand opening multiple locations every day. The brand has also already seen success: since the mobile site's initial launch in October, nearly 20 percent of its overall incoming job applications (that's about 5,000 applications) have come in via mobile devices. That's added convenience for hopefuls, and a lot of added employee pool choice for Chipotle to build the best team that it can.