7 Ways to Feast During Sydney's Chinese New Year Festival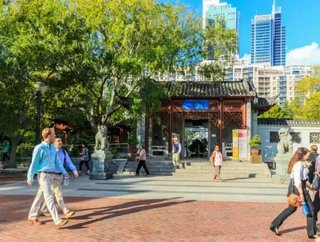 Are you ready for the Lunar New Year? Festivities for Sydneys Chinese New Year Festival kick off today and continue through March 1, and theres a lot to...
Are you ready for the Lunar New Year? Festivities for Sydney's Chinese New Year Festival kick off today and continue through March 1, and there's a lot to take in. There's also a lot to eat, from flavorful street food to upscale fine dining, so be sure to save room. Here are 7 bites and experiences to try over the next two weeks.
1. Cold drinks and hot noodles under the stars at Lunar Streets (Sat 14 Feb 5-11PM)
Why stay inside on a warm Sydney summer night when you could treat yourself to the street foods and sensory experiences of a night market? For one night during the Chinese New Year Festival, the streets of Sydney's Chinatown, Thaitown, and Koreatown are welcoming visitors to dine and enjoy outdoor entertainment under the glow of the stars and lantern light. More than 30 cafés and restaurants are participating in the street festival—so whether you want a piping hot bowl of ramen from Ramen Zundo or an ice cold milk tea with pearls from Easyway Tea, there's something for everyone.
2. 20-hour beef broth and Chinese fusion small plates for your Lunar Feast (Fri 13 Feb-Sun 1 March)
Street food isn't the only game in town during the Chinese New Year Festival. Many Sydney restaurants are also offering multi-course Lunar Feast prix fixe menus, welcoming in the New Year with a mix of traditional and Asian Fusion fine dining. The 6-course "chapas" (Chinese tapas) banquet at Chefs Gallery features share plates like slow cooked marinated beef and salt and pepper king prawns for good luck and good health. At The Star's Fat Noodle, celebrity chef Luke Nguyen steeps sirloin and brisket, Thai Basil, and rice noodles in a 20-hour slow simmered beef broth.
3. Bao and dumplings at the Lunar Markets (Thu 12 Feb-Sun 22 Feb)
Presented by The Star Sydney and the Sydney Morning Herald, Lunar Markets is a brand new 11-day event in Pyrmont Bay Park celebrating Asian cuisine and culture. More than 20 stalls have signed on to offer an array of street foods, including braised pork belly or Peking duck bao from Bao Stop and crispy suckling pig or crispy prawn and chicken dumplings from The Star's own Fat Noodle. Check out the full menu here.
4. Seafood among traditional lion dancers at the Sydney Fish Market (Thu 19 Feb 12-2PM)
The Sydney Fish Market is open every day during Chinese New Year, inviting visitors to check out the wares of its fishmongers and sample sushi and seafood at one of its many restaurants and cafés. But stop by on the afternoon of the 19th for an extra special celebration and enjoy your meal amid traditional lion dancers granting luck and prosperity.
5. Colorful confections at Chinatown's Temple Fair (Fri 20 Feb-Fri 6 March)
On Fridays throughout the Lunar New Year, visit the Temple Fair celebration days at the Chinatown Markets on Sydney's Dixon Street. Here candied fruit kebabs and more promise to line the streets, providing plenty of snacking opportunities. 
6. Dim sum with a side of mahjong at Sydney's MahJong Room
Hong Kong natives William Hui and Erika Chan opened MahJong Room in 2002 in the hopes of sharing traditional food and entertainment culture with the Sydney community. Every Saturday during Sydney's Chinese New Year Festival, the MahJong Room is offering its MahJong PlayLunch. The three-hour session includes instruction on the game for 4 to 12 players, a mahjong set to take home, and a full dim sum service from har gau and siu mai dumplings to mango pudding and custard desserts.  
7. A Peking Duck feast and high tea at the Shangri-La (Mon 16 Feb-Sun 22 Feb)
Sydney's Shangri-La Hotel is celebrating the Lunar New Year with a special Chinese New Year Buffet at the hotel's Café Mix. The lavish dinner service features three live cooking stations for Peking duck, noodles and lettuce wraps, and a range of regional Chinese specialty dishes. The hotel is also offering a China-themed high tea service at Lobby Lounge.