The rise of 'blind restaurants' — dining in the dark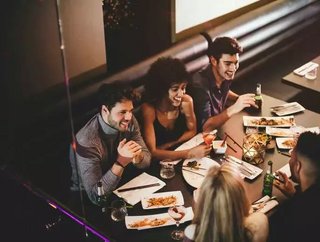 We like our grub in the UK, don't we? Whether it's a trip to McDonald's, a scroll through Just Eat, or a booking at a fancy Italian restaurant, we...
We like our grub in the UK, don't we? Whether it's a trip to McDonald's, a scroll through Just Eat, or a booking at a fancy Italian restaurant, we spend a lot of time thinking and talking about food. But what if you couldn't see that delicious dish in front of you? For some, this isn't a possibility.
For those of us who are visually impaired, we have to use senses other than sight when we sit down for food – and this has led to a rise in the phenomenon that is dining in the dark. Popular TV shows, such as The Ellen Show, have featured the experience, but what is this unique idea that is taking over the gastronomic world?
Dining in the dark explained
It is a unique sensory awareness experience that allows the diner to understand first-hand what dinner time is like for people who are blind.
While 93% of people who are registered as blind or partially sighted are able to see something, whether it's just a light shadow or otherwise, the lights are dimmed low and your eyes will be covered by a dark mask. You will be asked to eliminate all sources of light, including mobile phones and cameras, to make the experience as authentic as possible.
The event challenges its guests to navigate through a meal without being able to see, therefore enhancing your other senses. You are served by a waiter – often people who are blind or partially sighted – and eat a range of foods from either a pre-determined or surprise menu. Whether you choose to use cutlery or dive right in is up to you!
Why was it created?
The concept was introduced during the nineties in Europe, before becoming popular worldwide, including the United States and Asia, to make the public more aware of how people live with sight loss. While there are charities for the blind working extremely hard to raise this awareness, the dining in the dark experience gives the public first-hand knowledge of exactly what it is like for this living with poor or no vision.
SEE ALO:
The first experience of dining in the dark was in Paris at Michel Reilhac's 'Le gout du noir', while the original 'dark dining' restaurant is said to be Blind Kuh, which was opened in Zurich, Switzerland, in 1999. In 2003, Edouard de Broglie created the first international chain of restaurants in the dark.
Why choose dining in the dark?
This can be a unique idea for a night out, whether it's just for food or as a team-building exercise. The one-of-a-kind experience you'll be faced with if you choose a 'surprise menu' will allow you to work as a team to try to guess what it is you are all eating.
It enables you to step out of your comfort zone and fully appreciate a sense that so many of us take for granted and, with more and more restaurants popping up offering this service, you might not have to travel far to find your closest establishment. It aims to prove the notion that a meal can actually be more enjoyable if you remove your sense of sight.
While there are critics of such simulation exercises who fear that the experience promotes individual and functional limitation models of disability while ignoring the impact of a more inclusive environment, the dining in the dark phenomenon is continuing to keep sight limitation in front of the public. Surely this can only be a good thing.