Inside Tesco's Cutting Edge Thailand Distribution Center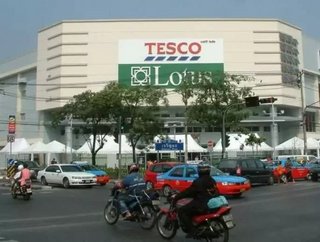 If youre going to grow your business in a new location, you need two things: a strong understanding of the location where your business is going to to o...
If you're going to grow your business in a new location, you need two things: a strong understanding of the location where your business is going to to operate, and a unique service to offer that your new audience can't get anywhere else. Without these key components, there can be no guarantee of long-term success.
UK-based supermarket giant Tesco hasn't made it to where it is today by ignoring these components. The construction of its new distribution center in Khon Kaen, Thailand, which leverages Tesco's knowledge of cutting edge supply chain strategies and technology to foster expansion of the brand's Asia-based Tesco Lotus division, is a prime example of using your personal strengths to grow your business overseas.
"We have stores in almost all parts of the country and in recent years we've been expanding our presence in upcountry areas," said Tesco Asia CEO Trevor Masters in a recent blog post covering the Khon Kaen center launch. "As the north and north east of Thailand develops, we're seeing previously poor farming areas become more economically active with greater spending power – economic growth in Northeast Thailand reached 40%, more than double the rate of Bangkok at 17 %, between 2007 and 2011. This means there are more customers looking to us to bring safe, fresh, great value products in a way that suits them and their lifestyle."
The new 2.5 million baht Tesco Lotus logistics hub is serious business by all standards, and a reflection of the region's rapid growth: with 52,000 square meters of space, already servicing more than 300 locations throughout north and northeast Thailand, the structure is among the largest distribution centers in the country. While it's Tesco's fifth distribution center in Thailand overall, it's the first to focus its energy entirely in northern and eastern Thailand as opposed to the southern coastal focus of Bangkok. 
"We needed a distribution network in the North East which took pressure off our central depots in Bangkok, allowing us to source more products locally and get them to our customers faster and in an efficient, sustainable way," explains Masters. "This is a distribution centre (DC) which would be cutting edge anywhere in the world – the technology is the same as we use in the newest of our UK DCs." This would include such efficiencies as:
Fleet fuel conservation
Increased traceability measures
Green refrigerants and phasing out of HFCs in cold storage
Efficient LED lighting
Heat recovery and cold-air retrieval systems to conserve energy from heating and air conditioning
" We have invested 2.5 billion baht in building this state-of-the-art distribution centre, and the project has already created nearly 1,000 new jobs in the local area," Tesco CEO John Christie told the Bangkok Post, explaining thateven the strategic placement of the facility in Khon Kaen has helped with slashing the brand's carbon footprint. "By setting it up in Khon Kaen, we have also reduced trucks travelling 400,000 kilometres every week, a major reduction in carbon emissions."
Tesco's Khon Kaen distribution center also displays how the retail brand is always thinking about the potential for further growth in the future: while the center is already handling an impressive million cases of product per week, the sheer size of the center imbues it with the capability to comfortably handle up to 3 million cases per week. That capacity isn't needed now – but it will be, if expansion in Thailand continues apace, consumer demand continuing to grow for the types of produce and value-added products that only Tesco has to offer. What's more, this major distribution center sets Tesco up neatly for further expansion in existing markets China and India plus potentially lucrative new markets like Vietnam.
"We've built ourselves a great platform for the future," says Masters. "Facilities like Khon Kaen DC will help us to pursue our strategy of disciplined international growth. It will allow us to grow our market share in a region with huge opportunity – in this case the developing upcountry areas of Thailand." 
[READ MORE: tescoplc.com/talkingshop/index.asp?blogid=202; bangkokpost.com/business/news/408424/tesco-lotus-opens-khon-kaen-warehouse]