How Can You Do Your Part to Fight Fraud in the Seafood Supply Chain?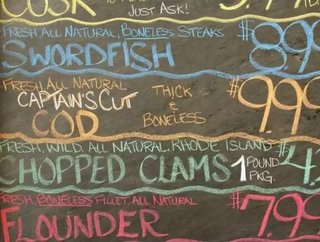 Theres nothing like taking pride in the products youre selling. But when that product is a fine cut of fish, things can get tricky – when bottom l...
There's nothing like taking pride in the products you're selling. But when that product is a fine cut of fish, things can get tricky – when bottom lines and cutting costs are the top priority, details like quality and accuracy often pay the price. In the seafood industry, research and advocacy organizations are starting to bring a disturbing trend to light: seafood fraud.
"We had seen some newspaper articles across the country about the mislabeling of seafood when some newspapers had gone and done testing, as well as some academic studies," says Beth Lowell, Campaign Director at ocean conservation group Oceana. "So we were wondering: was this still a problem? Was this something Oceana could work on?" 
Oceana researchers began their own testing in Boston, sampling seafood from local grocery stores. "We were kind of skeptical, so we were surprised when 18 percent of the grocery store samples that we purchased were mislabeled," says Lowell. "From there we said: hey, I think we have something here and this is kind of crazy. 18 percent mislabeling in a grocery store that has inventory controls and major buying decisions is more than a clerical error; it's definitely something in the process."
This investigation has led to Oceana conducting several studies in Los Angeles, New York, Florida, and beyond – and at every location, seafood fraud was detected. In December, the organization released a report finding that 39 percent of fish tested at restaurants and grocery stores in New York City were mislabeled.
Why seafood mislabeling is so prevalent, and where along the supply chain it is happening, are issues that groups like Oceana are still trying to figure out. "Because we're only testing the end point of purchase, we don't know where the mislabeling happens – is it at a wholesale distributor who's trying to fill orders, or is it someone at the final purchase point of sale trying to purchase less expensive fish and pass it off as more expensive fish?" says Lowell, noting that a big part of the problem has to do with the nature of the seafood industry itself. "When you look at the seafood supply chain, it's so long and complex that there are opportunities for swapping out one fish for another every step of the way," she explains. "Sometimes the end retailer doesn't even know that the food they're selling isn't what's on the label."
But there are very important reasons why retailers should, at the very least, be aware that seafood mislabeling is a problem. "They are the final person that touches the fish before it reaches the end consumer," says Lowell. "So they should particularly be concerned with what they're selling to consumers across the country. If somebody buys fish and ends up getting sick from it because there was species substitution and they're allergic to the fish that was substituted, they're not going to say "oh, it could have been seven layers up the supply chain" – they're going to say "I bought it at X restaurant or Y market."  So I do think the end retailers in the chain do need to have more information about the seafood that they're selling to people." 
What can be done? Political groups and conservancy organizations are doing their part to advocate for industry changes on a federal level – Lowell notes that, in the Spring, Oceana is hoping to reintroduce a piece of top chef-endorsed legislation to the U.S. Congress which would require improved traceability of all imported and domestically caught seafood sold in the United States from boat to plate. But in the meantime, there are things that individual chefs and retailers can do to take a proactive stance against seafood mislabeling and fraud.
"I think asking questions of suppliers further up the chain is good – where, when, how the fish was caught, scientific names, et cetera – because I think the more information is available, the harder it is to falsify documents," says Lowell. "There are also programs around the country that have traceability measures in place, voluntary programs that sell traceable seafood that has a bar code, a snap tag, or a number where you go to a website, type it in, and follow the fish back to the fishing vessel. Supporting these programs is great, because obviously the people who are in them are doing this because they want to and because they are proud of the seafood products that they're selling. Giving that boost to programs that are already doing traceability is great."
The seafood industry isn't the only sector facing these problems – earlier this year, UK retailers like Tesco came under fire when it was revealed that horsemeat had been mixed into the ground beef patties sourced from meat supplier Silvercrest Foods. Due in no small part to this scandal, the UK's Food Standards Agency is calling for a meat testing program while independent grocers and suppliers have stepped up with the claim that they may introduce DNA testing as a manufacturing practice. Lowell and Oceana express hope that this shared responsibility will cross over to the seafood industry as well.
"Obviously we'd like to have more random federal inspections of the supply chain to catch bad actors," she says. "But also, I think that the more the industry takes on the voluntary role of testing DNA, the more checks and balances there are, we will make it harder for the bad actors to do what they're doing. They've been getting away with it for so long, and they're so good at it. They know how to take a fish with a similar taste, texture, and appearance and swap it out for another, and really there hasn't been anybody checking for so long which is why they've been getting away with it.
"The majority in the seafood supply chain, from fishermen all the way down to retailers, are honest and good," she explains. "They're just getting a bad rap from these bad actors. But the more people there are looking and checking and verifying, the harder we're going to make it for those folks to swap out seafood."