Could nutritious food be the key to workplace productivity?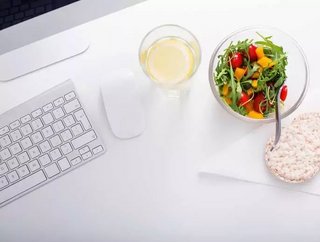 The UK has been hampered by stagnant productivity rates for years, but could the solution lie on our plates? We speak with Aramark's Carolyn Hails to...
The UK has been hampered by stagnant productivity rates for years, but could the solution lie on our plates? We speak with Aramark's Carolyn Hails to find out more 
Food is a powerful thing: it fuels people, helps people forge connections, but could it also influence the success of today's workplaces? Research conducted by scientists at Brigham Young University has revealed that employees with unhealthy diets are 66% more likely to report a productivity loss than healthy eaters. When we think about factors that contribute to workplace performance, many companies rarely consider the food they eat but could be the key to unlocking operational efficiency? Likewise, could the right food offering help boost companies bottom-lines, by increasing customer dwell time and average sale values?
US-based Aramark has carved out its own path in this field, providing services for industries such as education, healthcare, business and industry, sports, leisure, and corrections. By offering innovative food, facilities, and uniform services, Marketing Director of Northern Europe, Carolyn Hails, says that the company has set itself a simple challenge: to enrich and nourish businesses across the globe. 
"We really believe that a happy and healthy team inspires creativity and productivity in the workplace," observes Hails. "It creates a culture that attracts and retains the best talent possible and if a business has the best team then it will be the best at what it does. For us, if we put our clients and customers at the heart of everything we do then it's a success.
SEE ALSO:
Every business has its own unique culture, strategy and people. By tapping into this, Hails argues that the food and service industry can add value to businesses. "The more we understand a business' strategy and culture, then the more we understand their customers, their workplace and what their expectations are," explains Hails. "We make sure that we personalise each of their workplaces — their environment, their experience, their food offer — perfectly for that particular business and sector."
"I think food in the workplace is changing radically," she adds. "We talk about the needs and expectations of customers all of the time, and if you think about what people are looking for now, it's hand-crafted, nutritional, delicious food. Therefore, for each and every company Aramark works with it creates a bespoke offering, one which is completely perfect for their business from both a marketing and culinary perspective."
Insight, innovation and impact: this is the three-word mantra that Aramark lives by according to Hails and it's one which reflects how the firm is keen to leverage consumer trends and industry insights. "It's all about customer-centricity that is driven by rich data and insight," she says.
Aramark's footprint extends across 19 countries across the globe, but this thread of insight is present throughout its operations. Hails explains that Aramark's strategy is a simple one that focuses on quality, health, convenience, personalisation and which is tailored to the specific company in mind.
"We serve hundreds of thousands of people every day, across many sectors, and we have leveraged this global experience and knowledge to be the best we can," notes Hails. "We do this by offering high-quality products, many of which are convenient for today's on-the-go consumer. Everything is personalised and made the consumer's way and we also look at people's well-being and holistic environment. I think the reason we've been so successful is that we enrich our clients and our customers, but we are also now a trusted partner, through leadership and our passion for food and people."
Named as one of the World's Most Admired Companies by Fortune, Aramark has positioned itself as a leading player in the food and services space — and it's still growing today. With its latest celebrity alliance, the US-based firm is hoping to ramp up its expansion efforts in Europe with a unique social-dining offering. 
Jamie Oliver is a renowned British television chef, well-known for his appetite for nutritious food.  Partnering with Aramark for an exclusive 10-year alliance, the celebrity personality will take his high street brands like Jamie's Italian and Jamie's Deli to new locations such as schools, hospitals and workplaces.
In Hails' eyes, the partnership is a perfect fit. "We wanted to have a partner that was perfect for today's culinary consumer," she says. "Jamie, being an internationally known chef, has a fantastic reputation for producing delicious, nutritious food, but he's also got family, he's fun, and he wants to make a difference. I think what was important was that we really understood each other's business and potential. It was clear, right from the beginning that our values were very much aligned. We both had the same passion for nutritional, delicious food but we also want to help today's society, influence change, and really make a difference."
SEE ALSO:
Nutrition and healthy offering are a key part of Aramark's DNA. To promote this, the company has developed specialised skills to promote this vision.  "In my team alone, we have two dieticians and a well-being and fitness specialist dedicated to this area," says Hails.
"They help to oversee the development of our training programmes and menus and they also make sure the nutritional requirements are exactly what they should be, especially for our 'Healthy for Life' programme whereby 25% of the menus we create have reduced fat, reduced salt and 500 calories," she continues. "We also look very carefully how we educate our customers on health and well-being through communications, blogs, and news. Everything we do is about healthy, delicious food, and being very transparent about ingredients and nutrition."
With over 30 years' experience in the sector, Hails has proven she has an innate understanding of the food and services industry and where it is heading. At Aramark, it seems she's not alone. Hiring people from a wide range of backgrounds and experiences, Aramark has developed distinctive strengths and expertise. This effort hasn't gone unnoticed by the international community either, with Aramark being rated number one among Diversified Outsourcing Companies, as well as an employer of choice by the Human Rights Campaign and DiversityInc. Yet, Hails is keen to point out that a diverse workforce shouldn't be something to promote, it should be second-nature for businesses today.
"We are a people-focused business and so I think diversity inclusion is essential if you want to be successful," she says. "At Aramark, we want to be sure to hire people from different backgrounds, experiences, and orientations. We want to have a diverse workforce so that it enriches not just our company, but so it nourishes our thinking and what we're going to do tomorrow. We're very aware that having a range of people with different knowledge, experiences and ideas is what makes us strong. 
"We've got a programme called 'Working Together, Hand in Hand' which hopes to foster this naturally because I think diversity in the workplace shouldn't be something that's forced. It should be something very natural. We speak about doing this 'hand-in-hand' because everybody in the business has a part to play to promote Aramark as an inclusive, welcoming place to work. For me, it's about behaviour; it's about creating the right culture."
Embarking on its latest partnership with Jamie Oliver Restaurant Group and with further expansions on the horizon, Hails is excited to see where the company will head next.
"Our mission is about enriching and nourishing people," she says. "That's aimed at everybody: it's not just for our customers, it's for our teams, it's for our suppliers, it's for our clients. For me, I'm truly excited that delicious nutritious food is now really on everyone's agenda, especially our clients and customers. It gives us the opportunity to thrive and really show them what we can do. That's really exciting for us."