UKHospitality speaks out on the new single-use plastic ban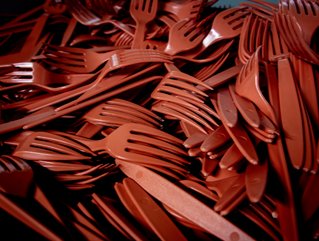 UKHospitality Chief Executive Kate Nicholls says sustainability is a top priority for the hospitality sector who is committed to Net Zero by 2040.
The UK Government has confirmed an increase in the single-use plastic products that will be banned in England from October 2023.
Hospitality businesses will be prevented from selling single-use plastic plates, trays, bowls, cutlery, balloon sticks and certain types of polystyrene cups and food containers under the ban.
UKHospitality Chief Executive Kate Nicholls has spoken out on the ban. She says: "Sustainability is a priority for the hospitality sector, with UKHospitality committed to the industry-wide goal of reaching net zero by 2040, which includes completely eliminating single-use plastics.
"Hospitality venues have already made huge strides in moving away from single-use plastics and using greener alternatives, but there were concerns over the practicalities of some elements of the proposed ban for venues that offer both eat-in and takeaway services. It's positive news that the Government has listened to UKHospitality's concerns about this and widened its packaging exemption to include these hybrid operators.
"What this exemption offers is further time for alternative markets of sustainable packaging to develop, which will allow businesses to go even further in their green initiatives when viable and affordable alternatives are more readily available."
How much single-use plastic is used in England?
England uses around 2.7 billion items of single-use cutlery, mostly plastic, a year, and 721 million single-use plates, according to estimates by the Department for Environment and Rural Affairs. Yet only 10% are recycled. If 2.7 billion pieces of cutlery were lined up they would go round the world over eight and a half times (based on a 15cm piece of cutlery).
From October, people won't be able to buy these products from any business - this includes retailers, takeaways, food vendors and the hospitality industry. Over 95% of those who responded to the Government's consultation were in favour of the bans.
Plastic pollution takes hundreds of years to break down and inflicts serious damage to our oceans, rivers and land. It is also a major source of greenhouse gas emissions, from the production and manufacture of the plastic itself to the way it is disposed.
Environment Secretary Thérèse Coffey said: "We all know the absolutely devastating impacts that plastic can have on our environment and wildlife. We have listened to the public and these new single-use plastics bans will continue our vital work to protect the environment for future generations.
"I am proud of our efforts in this area: we have banned microbeads, restricted the use of straws, stirrers and cotton buds and our carrier bag charge has successfully cut sales by over 97% in the main supermarkets."
Environment Minister Rebecca Pow added: "Plastic is a scourge which blights our streets and beautiful countryside and I am determined that we shift away from a single-use culture.
"By introducing a ban later this year we are doubling down on our commitment to eliminate all avoidable plastic waste. We will also be pressing ahead with our ambitious plans for a deposit return scheme for drinks containers and consistent recycling collections in England.
"It is expected that banning these items will have a significant impact in reducing plastic waste and littering in England. Plastic cutlery, for instance, was in the top 15 most littered items in the country by count in 2020.
"Previous bans, such as banning straws, stirrers and cotton buds, have reduced the damage from these plastics. Before we banned these products, it was estimated straws, stirrers and cotton buds collectively contributed to around 5.7% of marine litter. After our ban, the Great British Beach Clean 2021 reported cotton bud sticks had moved out of the UK's top 10 most common beach litter items."
Proposed future measures
The Government is also considering further measures around other commonly littered and problematic plastic items, including wet wipes, tobacco filters and sachets, following a call for evidence on this issue. Future steps that could be explored include banning plastic in these items, and mandatory labelling on packaging to help consumers dispose of these items correctly. A new research project will also look into the impact of wet wipes on blockages in the sewage system, and will inform any future policy actions.