Mövenpick's London launchpad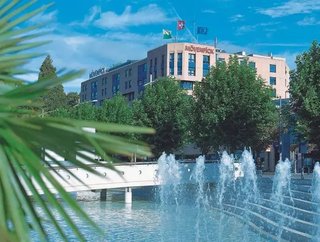 Inflation, stagnation, uncertainty. These three words neatly summarise the economic atmosphere of Europe throughout the past decade since the financial...
Inflation, stagnation, uncertainty. These three words neatly summarise the economic atmosphere of Europe throughout the past decade since the financial crisis struck.
Add in the UK's ongoing EU withdrawal process, and it is easy to see why many multinational companies are biding their time when it comes to deciding where to springboard European growth from. Indeed, much coverage has been devoted to big businesses lining up moves away from London, now tussling with the likes of Paris and Frankfurt to remain Europe's major financial conduit.
However, many are also committing to a UK-based European future. Take Mövenpick Hotels & Resorts, a Swiss multinational with more than 80 hotel, resort and cruiser operations across 24 countries. Having overseen rapid growth in the Middle East and Africa over the past two to three years, Amir Lababedi, now Vice President Development Europe & North Africa, heads up a new London office. His objective – to fast-track the company's European expansion, with the UK as its focal point.  
"The market has been performing extremely well in London and other European regions despite the talk of Brexit uncertainty," he states. "One concern will be cost inflation, but we will find ways to address this as and when it materialises.
"There have been a lot of suppliers entering the market, especially in London, and our overall outlook for here and secondary cities in the UK is extremely positive. We are known to the UK outbound tourism market, and now we want to build up our inbound and internal profile."
Mövenpick's decision to accelerate UK and European growth is backed up by numbers. The continent's travel and tourism trade has withstood the widespread economic difficulties more resolutely than most sectors. Growth has been steady – in 2011, travel and tourism contributed €565.6bn ($694bn) to Europe's GDP, a figure which has consistently risen year by year to €641.5bn ($787bn) in 2017. Come 2027 and the industry is expected to add €816.9bn ($1.001trn) to the European economy.
Hotelier heritage
Lababedi's job is to ensure Mövenpick enjoys a healthy share of this growth. An industry veteran of around 25 years, his experience in both financial and operational processes has proven invaluable throughout his career.
"My father was a hotelier so it came as a natural option for me," he recalls. "I have spent most of my life either living or working in hotels. Having been involved in my father's business from an early age, it became an ambition to develop a successful career in the industry.
"I chose to move away from the family business to broaden my horizons and experience – I did my masters in banking and finance and looked at various options after that. I looked at proprietary trading and equity markets before being asked about combining my finance and hotel knowledge and going into hotel investments, working for advisory firm HVS in London from 2005 to 2007, and then again in the UAE in 2013."
Lababedi also gained experience at Masdar and the Government of Abu Dhabi before moving back into an operational role, joining Mövenpick at the end of 2014.
Made in the Middle East
The next two and a half years appear to be career-defining. Under the stewardship of Chief Operating Officer for MEA Andreas Mattmüller, Lababedi helped Mövenpick to enter and expand in numerous countries within the region.
"Andreas was a brilliant leader and mentor and I learned a lot from him," he says. "We had a lot of fun and success working together. Forbes named us as the number one hotel brand operating in the region, so we really consolidated our position in these markets.
"We also expanded into new strategic markets, including Oman where we previously had zero presence. Lahore and Istanbul are other destinations further afield where we have opened with fantastic new owners. We now have three hotels in Pakistan."
Mövenpick now operates around 50 hotels across 10 Arab markets, and towards the end of the two and half year period, Lababedi took over responsibility for Africa, and in 2017 oversaw work on five new projects. Then, the opportunity to step into Europe presented itself.
"My predecessor decided to move on, and with my previous experience I felt comfortable in taking this on," Lababebdi explains. "It is a different role and a challenging one – the European market is a very sophisticated one in a highly competitive environment."
SEE ALSO:
Record chasing
Mövenpick signed a record 20 new hotel and resort deals worldwide last year, and is looking to build on that feat in 2018.
In Europe, this will involve consolidating its existing presence in major markets like Germany, Switzerland, the Netherlands and Turkey, expanding in the likes of the UK, Austria, France and Poland, and looking at opening up in other countries like Spain and Portugal, along with Eastern European markets and Scandinavia.
A mixture of management and lease agreements, new properties will include hotels, airport hotels, resorts (which account for one third of company income) and Mövenpick Residences, a recent addition comprising serviced apartments for longer term stays.
"My main objective is to develop the presence of Mövenpick in Europe through all of these channels, being seen by the development and investment community as actively targeting this region for growth," Lababedi states. 
This will not come without challenges, however. Asides the Brexit uncertainty and potential cost inflation already cited, Lababedi also points to heightened competition, finding risk-free tenants to sign leases, and a possible labour squeeze depending on the outcome of the UK's EU negotiations. 
Modernising
Though judgement on Lababedi's record may ultimately boil down to numbers, a not insignificant feature of 2018 for Mövenpick in Europe will be the curation of its hotel style and feel. This is no better demonstrated than by a landmark new lease deal signed in The Hague, Netherlands.
Working closely with American hotel design heavyweight Wilson Associates, the 72-room Mövenpick Hotel The Hague introduces a new era of design, focusing on contemporary public spaces to reflect the desires of modern travellers.
"A lot of our projects will demonstrate this shift that is evident at The Hague, whether it's making more from smaller room sizes or incorporating our food and beverage heritage," Lababedi says.
"The multi-purpose public lobby areas are going to be a key factor, while we will also see our wine and coffee lounges become more prominent. We want to make a more fun, engaging and socially interactive experience in these ground floor areas. This is the heart of the hotel, not just a place where you check in."
As a frequent corporate traveller, Lababedi began to fall in love with boutique hotels around 12-15 years ago as it became more common to work remotely in the likes of hotel lobbies and other public spaces while on the move.
"I find it incredibly boring to walk in and see the same setup with no surprises," he adds. "Yes, you are here with work to do, but you can work from anywhere now and people would rather be working remotely in engaging spaces, able to identify with the destination they are in. I want to feel like the city is inside the hotel."
By bringing hotel lobby areas to life, whether it be through creating dynamic meeting areas, opening multipurpose bars and eating spaces or simply rolling out superfast connectivity and charge points, Mövenpick is looking to appeal to the modern business traveller as much as leisure-going tourists.
Such appeal, Lababedi hopes, will lead to another landmark year. "We keep beating records with deals signed, and our intention is to keep that going," he concludes.