Why Olive Garden Launched the Never Ending Pasta Pass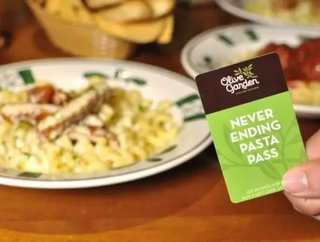 Olive Garden is known for its never-ending pasta bowls – still, no matter how many plates of fettuccine alfredo and lasagna primavera a customer i...
Olive Garden is known for its never-ending pasta bowls – still, no matter how many plates of fettuccine alfredo and lasagna primavera a customer is able to put down in one sitting, "never-ending" usually ends when you get up and pay your check at the end of the night.
Today Olive Garden extended that term for some with the "never ending pasta pass," a $100 ticket granting its owner access to a seven-week limitless cornucopia of pastas and meaty pasta toppings and Coca-Cola soft drinks during Olive Garden's Never Ending Pasta Bowl event (which kicks off on September 22 and ends on November 9). The restaurant chain released only a thousand tickets at 3PM EST – and they sold out in 45 minutes flat.
It's an insanely good deal for consumers who are ready to eat a lot of spaghetti: with most of Olive Garden's Lighter Fare and Traditional Favorites pasta plates ranging between $10 and $15, you only need to eat about six or seven plates (plus your sodas) to make the card worth the money. Even if you only eat one plate of pasta per meal, that's still just a laidback one-dinner-a-week commitment to get your money's worth. But this isn't about the logistical "how" of the never ending pasta pass – the question is why go through the effort of launching such a bold and grand gesture?
By announcing the Pasta Pass on social media, Olive Garden was able to ensure that its fans – the fans that are actively following and engaging with the brand – heard about it first. Indeed, according to Olive Garden, the launch of the pass is all about giving back to its diehard followers.
"The Never Ending Pasta Pass is a fun way to celebrate our superfans," says Olive Garden spokesperson Tara Gray, who notes that that there will be further opportunities for fans to win passes via social media giveaways in the weeks leading up to September 22. "It gives them a new way to enjoy what they love about Olive Garden and create even more memories with us. The greatest win for us is to make our biggest fans feel like VIPs."
There's also the smart marketing aspect: the Never Ending Pasta Bowl is consistently the most popular LTO promotion of the year for Olive Garden, and traditional marketing is always great, but a little bit of fun publicity never hurt and it's the grand gestures like this that get airtime. By only releasing a thousand of these tickets, Olive Garden won't take too much of a financial loss even if every buyer eats well beyond what the passes are worth – and social media giveaways will continue to keep those who didn't score passes today engaged up until the Never Ending Pasta Bowl event starts in earnest. Meanwhile, Olive Garden is getting the word out about its event in a way that's a lot more fun and inspired than a regular television commercial.
There's never been a better time for creative marketing, either. This is the first Never Ending Pasta Bowl event since parent company Darden Restaurants sold its Red Lobster chain to Golden Gate Capital in order to focus on revamping its flagship through huge efforts from nationwide remodeling plans to "the most comprehensive menu evolution in its history." All eyes are on Olive Garden during this fiscal year, making a successful campaign all the more imperative.
But if the speed at which the Never Ending Pasta Passes sold out is any indication, Olive Garden shouldn't have anything to worry about.