Valentine's Day's Most Romantic Restaurant Chains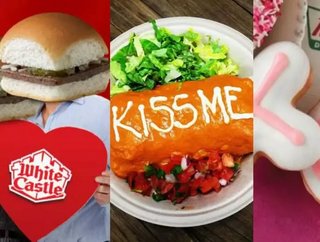 It's almost Valentine's Day, the time of year where young couples' hearts turn to the thought of a romantic dinner out. But why should fine dining...
It's almost Valentine's Day, the time of year where young couples' hearts turn to the thought of a romantic dinner out. But why should fine dining restaurants have all the fun? These QSR and casual dining chains are all doing their own thing for Valentine's Day. Some are new ideas, while others are long-running fan favorite traditions—but all of them offer something fun and different for the most romantic day of the year.  
1. White Castle
No QSR chain takes Valentine's Day as seriously as White Castle—year after year the burger chain sets the bar for romantic fast food options. Every year White Castle transforms each participating location into a "Love Castle," bedecked with red and pink tablecloths and heart-themed decorations. For one night only, the restaurants offer couples tableside service, printed menus, photo opportunities, and special treats (this year it's a return of the chain's limited run Shrimp Nibblers). "Love is in the air here at White Castle, as we celebrate this joyous holiday with a special dinner for our most dedicated Cravers," said Jamie Richardson, White Castle vice president, in a press release for the event. "This is a wonderful event for customers who have shared memorable moments at our restaurants, including those that have met or had their first date at a White Castle." The event has become a boon for the regional brand as a cult favorite for its diehard fans, with reservations filling up quickly each year.
2. Waffle House
White Castle may be the most well-known restaurant chain taking dinner reservations for Valentine's Day romance, but it certainly doesn't hold a monopoly on the holiday—Waffle House offers an appealing and romantic alternative for diners who prefer pecan waffles and gravy-topped hash browns to sliders and chicken rings. This is the chain's eighth year offering its customers a romantic affair with candles, crisp white tablecloths, and a special Valentine's Day Waffle House menu. "Valentine's Day at Waffle House is all about having fun with the ones you love," said Pat Warner, Waffle House Vice President of Culture, in a press release announcing this year's event and encouraging participants to share their experiences on social media with the hashtag #Waffles4Lovers.  "It has become an annual tradition for customers, and our Associates greatly enjoy it as well."
3. Starbucks: Cute Cups and Coffee Dates
Tons of people can tell you all about the romance factor of Starbucks—just ask anyone who's had a successful coffee date, let alone the passionate souls who took their Starbucks love to the next level with a #StarbucksWedding. Starbucks is taking that romance potential to the max this year with several promotions. Today the coffee chain got the ball rolling with specially designed new super cute heart-adorned cups. But things really heat up on Friday during the World's Largest Starbucks Date, a February 13 cross-promotion between Starbucks and online dating service Match intending to nurture relationships and encourage new ones so that everyone will have their own Valentine on Valentine's Day. Participating locations will offer $5 menu pairings like a Tall Flat White with a Chocolate Croissant or a romantic Caffé Verona® Coffee Press for Two (to split!) and a Double Chocolate Chunk Brownie, along with special playlists to set the mood and photo props for social media (because obviously).
4. Qdoba: Trading Kisses for Burritos
What's even more romantic than being smothered with kisses? A smothered burrito—and Qdoba's Valentine's Day BOGO promotion combines the best of both worlds. On Saturday, Qdoba is offering a Buy-One-Get-One deal on its new Smothered Burritos at participating locations. The catch: you have to follow up the purchase of the first smothered burrito with a smooch for a friend or loved one (or even a willing stranger—but the key word here is willing) to unlock that sweet free second burrito goodness. There's also a hashtag for fans who want to show off their burrito romance: #Smothered4aSmooch.
5. McDonald's: Get Lovin' By Giving Lovin'
McDonald's kicked off its own love-filled campaign with a series of ads during the Super Bowl. The promotion, which is already in full swing but runs through Valentine's Day, offers random consumers at participating stores the chance at an all-expenses-paid meal in exchange for a small act of love—the token of affection might be a hug, a jubilant dance, or a phone call to a loved one.
BONUS: Krispy Kreme and Dunkin Donuts
Sometimes you don't need bells and whistles and candlelit dinners. Sometimes you just want adorable heart-shaped donuts to take home and surprise your loved one with for breakfast. Krispy Kreme and Dunkin Donuts understand the power of to-go romance and have their consumers covered with appropriately themed donuts in the shape of hearts, Xs and Os.