Taco Bell Launches Biscuit Tacos and Compares McDonald's to Cold War East Germany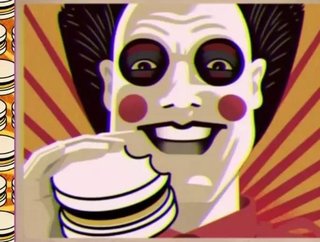 Its another busy week for Taco Bell—Yum! Brands most prolific franchise has just launched another new line of items, and theyre unlike anything Ta...
It's another busy week for Taco Bell—Yum! Brands' most prolific franchise has just launched another new line of items, and they're unlike anything Taco Bell has done before. Taco Bell: meet crispy chicken.
There are no chicken nuggets on the menu, because that be just like any other fast food restaurant (also it would be really weird for Taco Bell). Instead, the chicken—which is marinated and breaded in tortilla chips, because Taco Bell knows how to get creative with tortilla chips—is integrated into distinctly Taco Bell items like quesadillas and the Chickstar, a softer cousin to the Crunch Wrap. But the Pièce de Résistance of the new line is a breakfast item: the Biscuit Taco, a successor to the Waffle Taco in which a crispy chicken strip is stuffed into a buttery biscuit (shaped like a taco) and drizzled in jalapeno honey or country gravy.
"This year is about making sure we continue to give people the food they crave in a way that's unique to Taco Bell," said Brian Niccol, CEO, Taco Bell Corp, in a press release announcing the new crispy chicken line. "Our Biscuit Taco delivers just that; it will reinvent the fast food breakfast experience by moving away from boring, round sandwiches and inserting bold tastes and flavors. Ultimately, we aim to make the breakfast day-part as famous as our late night."
There may be a whole line of crispy chicken items at Taco Bell, but the Biscuit Taco is the centerpiece. Why? Because Breakfast Wars are still going strong, an eternal battle between Taco Bell and McDonald's for total control and mastery of the earliest day part. Of course Taco Bell couldn't launch a new breakfast item without taking a playful jab at McDonald's—honestly, it's tradition at this point.
But Taco Bell really went all out with its latest ad campaign, a multimedia affair the brand's calling Breakfast Defectors. The campaign launched with a 3-minute Hunger Games-reminiscent short film that basically compares McDonald's (and its grip on what consumers think about, when they think about fast food breakfast) to the Communist regime of Cold War East Germany.
Not that the film ever comes out and actually says the word "McDonald's." It doesn't need to—the visuals say it all. There are Dictator and Gestapo clowns with greasepaint faces as far as the eye can see…
Dystopian Eastern Bloc propaganda for what can only be described as an Egg McMuffin…
Happy Meal toy grenades…
Ominous Play Place slides…
Ball pit moats…
…and, finally, a great concrete (Berlin) Wall erected to separate the drab world of McDonald's dictatorship and a cheerful European town full of ringing bells and the freedom to eat any breakfast you'd like (read: A.M. Crunchwraps). When that wall comes down, so do consumer inhibitions about where to eat breakfast.
It's a bold move for sure, but bold is exactly what Taco Bell is going for here. "When we launched breakfast last year, we wanted to be so disruptive that customers' heads and cars turned towards our drive-thrus," said Chris Brandt, Chief Marketing Officer, Taco Bell Corp, of the campaign. "Building on that momentum, we're now putting a spotlight on today's mundane daily breakfast routine to inspire defection towards the next generation of breakfast at Taco Bell."
Considering the success of Taco Bell's breakfast menu overall so far, it's just bold enough to work.