Smashburger Founder Discusses Brand Expansion in Canada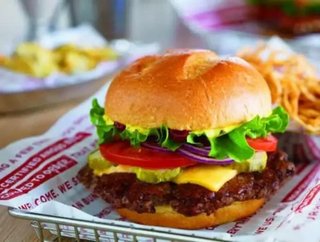 When the first Smashburger was formed in 2007, its creator had a simple vision. "The goal is to have a high quality burger with a great story that...
When the first Smashburger was formed in 2007, its creator had a simple vision. "The goal is to have a high quality burger with a great story that goes with it that you can taste in every bite," says Tom Ryan, founder and Chief Concept Officer of the fast casual better burger chain.
In under a decade, Smashburger has parlayed the public's love of a good burger into over a hundred locations from the Pacific to the Atlantic and as far south as Costa Rica. Now the brand is looking north, already gaining a foothold while building a franchising strategy that Ryan hopes will take Canada by storm. We caught up with Ryan to talk expansion, logistics, and all that Smashburger is looking for in a partner.
Food Digital: Why Canada and why now? What makes it ripe for franchise expansion?
Tom Ryan: First of all, Canada's a great country. But Canadian eating habits are very similar to those of Americans. We like to tell people burgers are America's favorite food, and we're pretty sure it's most Canadians' favorite food as well. So it just made sense to grow into the Canadian marketplace.
FD: You already have three locations in Alberta, correct?
TR: We do. The two stores in Calgary are corporate stores, and then we have a franchise partner in Edmonton.
FD: Where are you planning to expand from there?
TR: Our focus for the next couple of years is to continue to build out our Calgary and Edmonton markets. Those will probably see anywhere from three to five stores being built per year for the next foreseeable future.
Then our real strategic focus is primarily on Toronto and Vancouver to try and anchor ourselves in both the Western and Eastern provinces. We think those markets kind of reflect the equity that we know. They're very strong consumer markets, and they set a tone and a trend for the way that Canada goes forward. So we're actually on the hunt for franchise partners with multi-unit experience in either retailing or food brands – people who know how to run great businesses and run great restaurants.
We also have Montreal in our longer term sites, but that requires some French language translations and some other things we've got to get our homework done for. That's third on our hit list.
FD: What attracted you to establishing a franchise model in Canada?
TR: Much like most of our brand is local, we really feel that we have a local aspect to our brand regardless of where we are – whether it's in the US or Canada or Central America. We think that having local operators and local knowledge of the marketplace is really essential to becoming hand-in-glove fits with the communities where we intend to do business. Obviously having partners that know Toronto or know Vancouver just makes sense. It's best for the business and best for the brand.
FD: Will you be taking a local approach to the Canadian market as far as modifying the menu?
TR: One of the hallmarks of Smashburger is that we actually localize our menu all around the countries where we do business. All around the country, we customize our burgers for every marketplace. Often times we customize a shake, we add sides that are near and dear to the localized tastes of our customers, and most recently we've been adding a component of partnering with a local craft brewer –not just offering their beers, but actually pairing their beers with our recipes. That's the idea behind how we localize Smashburger. 
We have a Calgary burger in Canada, and it's actually tailored to be really relevant for the people eating a lot of burgers and beef up there. We start with a Smashburger, then we melt pepper jack cheese on that, we put that with our applewood-smoked bacon, lettuce, tomato, and Dijon-mayonnaise on a Kaiser roll, which happens to be the bread type that people in that part of Canada really love on their burgers.
The rest of the menu's traditional Canadian. We offer poutine aside from our Smash fries and other signature sides, we customize our BBQ sauce there using a Canadian BBQ sauce called Whiskey Creek, and we have a Saskatoon berry shake. Then, in Alberta, we're going to be partnering with Alley Cat Brewery to do our beer pairing as well. 
Edmonton's a little bit different – we decided that Edmonton's far enough away from the rest of Calgary to do its own burger. We have an Albertan Burger for that market, and it's a little bit different. It's a Smashburger with the same Canadian BBQ sauce, Canadian seasoned grilled onions – which of course have Montreal seasoning – a little cheddar cheese, and a fried egg on a Kaiser roll.
Those are examples of the way we customize our burgers to meet either the preferred taste of the marketplace or something that reflects the lifestyle and culture of how people eat in those marketplaces. 
FD: How will you handle your supply chain and logistics? 
TR: Right now, as we emerge, we're building scale in Canada. We source as many products from the Canadian supply chain as we possibly can. Our produce and a lot of our dairy products, most of our cheeses and et cetera, are all Canadian-sourced.
We have a few brand-based equity products that either we haven't built the scale or haven't found the vendors for yet. We're on the hunt for Canadian beef right now. We're using certified Angus here from US because it is the most defining aspect of the brand, but we are on the hunt to get a vendor approved so that we can use Canadian beef.
Our buns are very proprietary for a variety of reasons, and we're working with a couple of high profile Canadian bakeries right now to get those products matched. Then there are just a couple of sauces and so forth that we need to morph into fitting into Canadian regulations. But we're working on it, and we're committed to it as a company.
FD: What is the importance to you of making that commitment to work with local companies?
TR: First of all, I think there's a huge trend in general of people wanting to know where their food's from. We call it "food with a story." I think the more that story reflects positively back on Canada, the better that story gets for Canadians. 
The second thing is that it also makes a lot of sense from a logistics and freshness point of view.  Products that get manufactured and sent over shorter distances generally have better turn, and we believe in freshness as part of our core equity.
Third, it makes financial sense. Nine times out of ten, the products we would source that meet our brand equity standards sourced from Canada are going to be lower cost for us to get, and as a consequence will provide better value to our customers and quite frankly better profits for our operating customers. So if you put all of those together, it just falls into the common sense category of: "if you can do it, you should do it."
==========================================
Interested in franchise opportunities? Contact Smashburger at their franchising page for more information.