Should Restaurant Chains Have the Right to Opt Out of Hand Washing Regulations?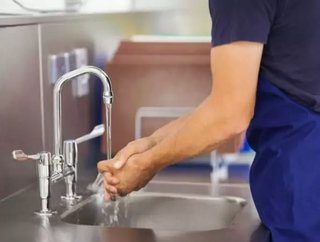 Should workers who handle food and beverages be able to opt out of washing their hands after, say, using the restroom or handling raw chicken or putting...
Should workers who handle food and beverages be able to opt out of washing their hands after, say, using the restroom or handling raw chicken or putting those hands through any other number of potentially unsanitary conditions? The sane and rational answer would have to be: "NO absolutely not why is this even a question up for debate?" And yet, here it is—a topic of discussion and debate in the year 2015. Blame North Carolina Senator Thom Tillis.
According to Food and Wine, recently elected Senator Tillis brought this issue up during a discussion on Monday at the Bipartisan Policy Center, saying that a company like Starbucks should be allowed to opt out of commanding its employees to wash their hands as long as they make that choice known to the public:
"I don't have any problem with Starbucks if they choose to opt out of this policy, as long as they post a sign that says, 'We don't require our employees to wash their hands after leaving the restroom.' The market will take care of that," Tillis stated.
That's certainly one way you could do business—albeit a fairly horrific one. Hand washing for food handling employees isn't a regulation just for kicks, after all. Food borne illnesses kill thousands every year in the United States alone. While one would hope that all workers would adhere to sanitary guidelines just out of respect for the job and their consumers, there have been enough illness outbreaks (and hidden camera shots on Bar Rescue) to know that our hopes don't always align with reality. In fact, according to the CDC, 88 percent of all food borne illness outbreaks at restaurants are caused by a failure in proper hand washing. So those regulations that would shut a restaurant down for not enforcing hand washing policies? They're very necessary to public health, as it turns out.  
Sure, the free market would eventually take care of the matter if consumers got wind that Starbucks (to use Tillis's own example) had stopped enforcing sanitation among its employees—but the risk here is of a serious food borne illness outbreak occurring before the free market had time to put the chain out of business. Of course such an outbreak could happen whether employees are asked to maintain sanitation practice or not, if an employee decides to buck the system. But the threat that the government will shut the restaurant down if found in a state of non-compliance is usually a good enough reason to prompt the vast majority of employees to keep their methods safe.
As Food and Wine notes, a further key problem with this is the fact that it simply substitutes one regulation for another. The regulation proposed by Tillis simply swaps a regulation for all employees to wash their hands out for a regulation making restaurant chains disclose if they decide to opt out. It's another regulation, and a useless one except to warn consumers away.
Of course Tillis doesn't really believe that restaurant employees should opt out of hand washing—as he elaborates in a damage control interview with the Associated Press later on, it's not really about hand washing at all. Extreme examples aside, it's more about relaxing government regulations on industry and letting businesses have the right to opt out of regulations in general, should they want to and should they agree to disclose that they're opting out:
"Let them decide" such issues, Tillis said, adding: "That's probably one where every business that did that would go out of business. But I think it's good to illustrate the point, that that's the sort of mentality we need to have to reduce the regulatory burden on this country." Tillis defended his point in an interview Tuesday in the Capitol. "Sometimes there are regulations that maybe we want to set a direction, but then let those who are regulated decide whether or not it makes sense," he said. They might pay a huge price, he said, but "they get to make that decision versus government."
But really, does that walkback really make the position all that much more comforting? Whether or not that's what he meant, in this case the analogy succeeded in putting his point in a pretty unsavory light. Whether it's hand washing in a restaurant or sanitation standards in a factory—given the consequences when things go wrong, some things are just too important to be left to chance.  
[SOURCE: Associated Press via Food and Wine; Eater National]