In-Depth: The Great Fast Food Wages Debate and What it Means for the Industry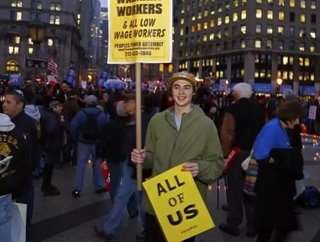 Every industry has its controversies. But few are as fraught, polarizing and politicized, as the controversy currently staring down the United States re...
Every industry has its controversies. But few are as fraught, polarizing and politicized, as the controversy currently staring down the United States restaurant industry: minimum wage. As fast food workers strike to raise the minimum wage to $15, and the federal government considers raising the minimum wage to $10.10, the restaurant industry is rippling with debate over the implications of such a policy shift. What will the effects be, and will it spell disaster for the restaurant business?
Two Sides to the Debate
The official party line within the franchise industry is that raising the minimum wage is bad news. "Mandating increased wages would lead to higher prices for consumers, lower foot traffic and sales for franchise owners, and ultimately, lost jobs and opportunities for employees to become managers or franchise owners," said International Franchise Association (IFA) President and CEO Steve Caldeira in a statement released in responses to workers protests. "The franchise industry is a proven job creator and career builder, yet efforts to double the minimum wage to $15 would clearly jeopardize opportunities for existing and prospective employees."
According to the IFA, raising the minimum wage would have especially dire consequences for teenage workers who would have less opportunity for work. But according to other sources, the average minimum wage fast food worker hasn't been a teenager for a long time – the Economic Policy Institute reports that the average minimum wage earner today is 35 years old, a third of whom have children to support and nearly half of whom are college educated (implying that they may also be dealing with student loan debt). This should lend much greater credence to the need for a wage increase – it's not really about teenage pocket money, but about the adult workforce being able to support itself.
Another issue to come up has been the disparity between tipped workers and non-tipped workers, an issue that has dramatic implications from state to state where wage laws differ. In San Diego, a city in California where tip earners make the same base minimum wage as anyone else, several key players in the restaurant industry have expressed frustration over the city's proposition to raise the minimum wage to $13/hr, due to this disparity and the struggles that restaurant owners will have to face to pay wages while also taking into consideration issues like full time worker health care. "Local operators will struggle, though likely survive," said restaurateur Matt Gordon in an interview with Voice of San Diego. "But it will put less of a strain on national operators and chains, who have more buying power, don't buy local and can offset their margins from better margins in other markets."
There's no doubt that it can be frustrating for restaurant and franchise owners to look at how much the top echelon of tip-earning workers make, while they are in the position of finding ways to pay these workers more. But this issue can also be a distraction – while some high earners are going to come out ahead, that doesn't take away from the fact that back-of-house workers and QSR workers who don't earn tips still need to make ends meet.
Effects Now and Down the Road
One of the biggest questions that employers and franchise owners have is: if the minimum wage is increased, how will that affect my business in both the short term and the long term? It's a simple question with complicated answers, but there are ways to consider the issue and start planning ahead.
There's no question that, in the short term, any raise in the minimum wage will be hard on employers. It necessitates coming up with tens (or even hundreds) of thousands of dollars that must now be allocated toward employee wages.
One way that you may be able to offset the profits lost by a minimum wage increase is by passing the difference along to your customers. This is often seen as a controversial tactic, which especially makes sense when considering QSR chains – when much of your menu is already within the dollar menu range, any price increase among your products is going to be more noticeable. How much prices would be raised is open to debate – a recent Forbes article suggested that the price of a McDonald's Big Mac could jump 68 cents to compensate for a new $15/hr minimum wage, while dollar menu items could jump from a dollar to $1.17.
But while franchises may look at this price jump as a potential PR disaster leading to a critical drop in sales, consider this: McDonald's already raised its prices last year, replacing its Dollar Menu with the much more laissez-faire Dollar Menu & More, with no real loss in sales reported. Consumers are fairly willing to accept the occasional incremental price increase as a fact of life without jumping ship; an increase in the minimum wage, meanwhile, could mean that more employees would be able to afford the price jump.
While the biggest long term concern is how a raise in the minimum wage will affect the job market, and whether or not thousands of workers will lose their jobs or even the opportunity of jobs altogether, some executives who have been in the industry for decades don't seem too concerned.
Take Fred DeLuca, CEO and co-founder of SUBWAY, for instance. He's not coming from a place of idealism – in 2013, he acknowledged that prices may have to go up to support a minimum wage increase. Rather, he's coming from a place of being in the industry for decades, seeing several wage increases come and go, and knowing how such maneuvers have played out in the past.
"Over the years, I've seen so many of these wage increases," DeLuca told CNBC during a recent interview. "I think it's normal. It won't have a negative impact hopefully, and that's what I tell my workers. I always have whenever we come across these things."
In fact, DeLuca's idea for fixing the minimum wage debate is perhaps one of the most practical – raise it incrementally over time, and you won't have the kind of conflict the industry is facing now. "I personally think that if I were in charge of the government, I would index the minimum wage to inflation so that way everybody knows what they can count on," he explained. "The employees know they're going to get increases on a regular basis. The management knows that they're going to have to pay a little bit more with inflation. It just seems much more sensible and fair to me. I don't know why it hasn't been done like that. I would do it that way because in the long, long run it's going to approximate the change in inflation."