Curry, Sriracha, and Skinny Crust: Change is Coming to Pizza Hut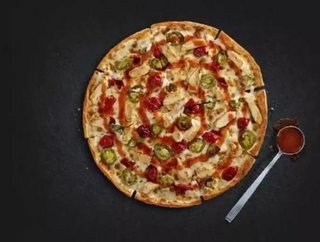 There are some major changes in store at Pizza Hut. In an effort to boost sales, the Yum Brands subsidiary is gearing up to launch a brand new and total...
There are some major changes in store at Pizza Hut. In an effort to boost sales, the Yum Brands subsidiary is gearing up to launch a brand new and totally-revamped menu on November 19. The new look shows that Pizza Hut has also caught on to the fact that consumers are looking for fresher, healthier, and more artisanal offerings from even their QSR franchises and chains. But can Pizza Hut succeed as the Chipotle of delivery pizza? Here are some of the changes that could lead the brand to renewed success when it launches its new strategy next week:  
1. A Cornucopia of Crust Flavors
The most interesting option included in Pizza Hut's menu reimagining is the inclusion of ten crust flavors, giving pizzas some added dimension. In addition to a plain pizza crust ("Hut Favorite"), consumers can pick from either comfort food flavors like toasted cheddar or (taking a page out of Little Caesar's playbook) Salted Pretzel, or more adventurous choices like Honey Sriracha or LTO Curried Away.
2. Sriracha, Sriracha Everywhere
Pizza Hut is on a mission to give sriracha another moment in the sun: in addition to a honey sriracha flavored crust, it's also offering honey sriracha as a pizza sauce option. That's by far the biggest stand-out of the new sauce flavors, which also consist of buffalo, barbecue, and premium crushed tomato along with more basic red and white sauces. Beyond base sauces, Pizza Hut is also offering up "sauce drizzles" to delicately spiral atop your pizza, with such flavors as balsamic reduction, barbecue, and of course honey sriracha.
3. Advanced Topping Choices
Pizza Hut is taking cues from craft pizzerias and trying out some out-of-the-box pizza toppings including Peruvian cherry peppers, spinach, banana peppers, "classic meatballs," and "premium salami." These choices can come pre-selected in Pizza Hut's eleven new craft-inspired specialty pizzas, or on their own if consumers decide to take the design-your-own-pizza route.
4. Skinny Crust For Your Health
Pizza Hut knows that the high carb count inherent to pizza crust is what's forever keeping some potential consumers away, and it's trying to rectify that problem with a new lower-calorie option called the "skinny crust." It may not be official Skinnygirl® brand with the Bethenny Frankel seal of approval, but it's reportedly done well enough in test markets for Pizza Hut to try it out nationwide. In addition to a skinny crust option, Pizza Hut is also offering a few "skinny pizza" specialty pizza options that hit around 250 calories per slice.
5. A New Look All Around
Where there's a menu reboot, a full-on image reboot usually isn't far behind. That's true in the case of Pizza Hut as well: the brand is also reportedly rolling out new uniforms and a new digital strategy.
[SOURCE: CNBC via Buzzfeed News; ABC]