Tetra Pak Introduces Innovative Sugar Cane Bottle Cap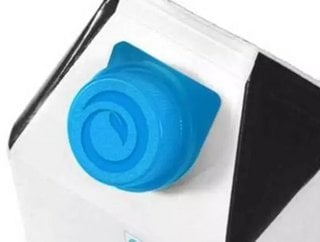 When it comes to the area of sustainable initiatives, grand sweeping gestures are always sure to make headlines. But sometimes its the little things tha...
When it comes to the area of sustainable initiatives, grand sweeping gestures are always sure to make headlines. But sometimes it's the little things that demand to be noticed – like a bottle cap, with only an etching of a leaf to distinguish it from a sea of bottle cap competitors that have long populated the earth.
But this bottle cap is different in more than just graphic design. Tetra Pak's bio-based caps may look and feel like any other cap, but the polyethylene used to fabricate them comes from an unexpected source: sugar cane.
"Tetra Pak is the first company in the global carton packaging industry to use plastic caps made of high-density polyethylene (HDPE) derived entirely from a renewable feedstock," a representative from Tetra Pak explains via e-mail. "The environmental profile of packaging has always played an integral role in our research and development of new products. We focus on the entire life cycle of our products, from shipping to shelf space to recyclability. Our dedication to developing environmentally sustainable packaging also is continuing to lead our research and development efforts."
In this case That research led Tetra Pak to Braskem, Brazil's largest petrochemical company. In the 1980s Braskem developed a method for processing PVC from sugar cane back in the 1980s and several years ago started a pilot plant to further improve its technology. 
"After being harvested, the sugar cane is crushed and its juice is captured, fermented and distilled to produce ethanol; the ethanol is dehydrated to ethylene, which is then polymerised to polyethylene and made into our caps," says Tetra Pak of the method used to produce the brand's bio-based caps. "The technique as such is rather old. Fermentation of sugar to ethanol has been known for thousands of years. Dehydration of ethanol to ethylene was used around the Second World War and was used as one of the sources for ethylene to polyethylene around 1950s."
But standard petroleum was cheaper and easier at the time, and its place as the go-to source material for plastics has long since been secure. In today's environmental climate, however, fossil fuels are understood as a finite resource and finding an alternative is paramount. In that regard, the bio-based caps more than fit the bill.
"Bio-based, or green, plastics are a more sustainable source of raw material – if the biomass used to produce the green polymers is grown and managed responsibly raw material for green polymers will continue to grow, and not run out," notes Tetra Pak, adding thatthe new caps also contribute to an overall reduction in greenhouse gas emissions compared polyethylene manufactured through traditional methods.
According to Tetra Pak, it's all one part of a mission to offer packaging options that are made entirely from renewable resources. "Caps and closures, pouring and drinking from experience, and advanced technologies for filling and processing equipment – we do all of this with sustainability in mind, integrating environmental aspects to our R&D processes by making use of the Design for Environment (DfE) process," says Tetra Pak. "As the world's leading supplier of wood fibre based carton packaging, we believe using renewable resources, when managed responsibly, is a more sustainable source of raw materials."
Since Tetra Pak first introduced it as a packaging option in Brazil, interest in the bio-based cap has grown exponentially. 610 million of the caps were used in 2012, compared to 80 million in 2011, with Tetra Pak counting major global corporations like Nestlé and Coca-Cola among the largest early adopters.
Nestlé in particular is credited with introducing the bio-based PE StreamCap™ 1000 along with Tetra Brik® Aseptic packages to the packaging of Ninho and Molico, two of its most popular Brazilian milk brands. "This has provided Nestlé with the opportunity to increase the environmental performance of their products, something which consumers increasingly care about and expect when it comes to packaging," the brand notes. Commercially available since early 2013 in the U.S. market, the bio-based caps now have the opportunity to provide the same service for a whole new range of products.
The bio-based polymer caps are far from the only sustainable innovation coming out of Tetra Pak's labs – the brand has also recently released a host of environmentally-conscious cartons in the North American market, including the Forest Stewardship Council-certified Tetra Recart and 1-liter Tetra Evero Aseptic. But in this busy and easily distracted world, much credit is due to those who are willing to take an unflinching look at the details and improve them.