Sri Lanka struggles as the price of food suffers sharp spike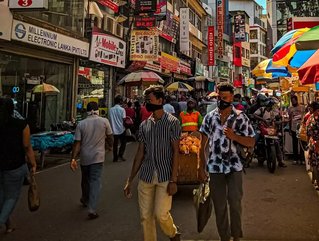 An economic emergency has been declared as Sri Lanka struggles to cope with the sudden sharp spike in food prices causing a surge in inflation
Covid-19 and an increase in foreign exchange rates are being blamed for the chaotic food crisis currently sweeping Sri Lanka. The country is battling a sudden surge in the price of basic foodstuffs such as potatoes, rice, and sugar, and is experiencing worrying shortages in other goods areas including milk powder, kerosene, and cooking gas. 
According to the country's Department of Census and Statistics, rising prices are being triggered due to foreign exchange rates increasing at a pace faster than the country is able to keep up with, causing a knock-on effect on Sri Lanka's supply of food and commodities. August also saw high food prices affect month-on-month inflation, which rose by a concerning 6%.
Covid-19 and exchange rates to blame for Sri Lankan food shortages
Parallel to foreign exchange rates rising, Sri Lanka is also seeing a surge in Coronavirus-related infections and deaths, damaging one of the country's largest sources of economic stability: tourism. As a result, 2020 saw Sri Lanka witness a record economic decline of 3.6%, throwing the country into a state of financial crisis. 
In an attempt to subdue the outflow of foreign currencies, the government has previously tried to impose a ban on international vehicles and goods, but with little success. Now, Sri Lanka has been forced to raise interest rates - the first country in the region to do so - to stimulate financial growth and ease the pressure caused by expensive import inflation.
Authorities are set to assume control over the distribution of basic food items such as rice and sugar, altering costs to curb the rate of inflation which has already caused the country's rupee to fall by almost 8% in comparison to the US dollar. 
Country in turmoil as inflation causes the supply of food and goods to drop substantially
In an effort to subdue panic and re-establish a sense of control, the Sri Lankan government has appointed a former army general as Commissioner of Essential Services. 
"The authorised officers will be able to take steps to provide essential food items at a concessionary rate to the public by purchasing stocks of essential food items," says Gotabaya Rajapaksa, President of Sri Lanka. 
"These items will be provided at government-guaranteed prices or based on the customs value on imported goods to prevent market irregularities. 
Currently, the country is being placed under a 16-day curfew due to a rise in Covid infections as Sri Lanka enforces nationwide emergency measures.