SokoFresh's cold storage units will stop food waste in Kenya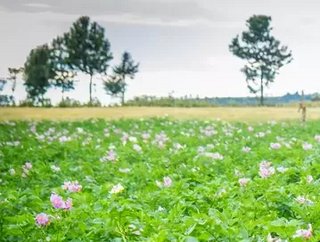 Many smallholder farmers in Kenya lack access to cold storage facilities. The new pay-as-you-go storage units from SokoFresh will decrease food waste
A foodtech company in Kenya is using solar energy to help smallholder farmers keep harvested produce cool to prevent food waste.
SokoFresh is a member of The Circulars Accelerator, an initiative to help entrepreneurs scale innovations that will help the world move towards a circular economy – in which waste is eliminated and resources are used again and again.
New cold storage units to prevent food waste
Small-volume farmers who grow avocados, mangos and French beans in Kenya, are helping to test the model from SokoFresh, which manages mobile cold storage units, that run on 100% solar energy.
By paying a small amount (1 Kenyan shilling) per kilogram on a pay-as-you-go basis, farmers or produce buyers can affordably access cold storage, when they need it.
SokoFresh plans for 400 cold storage units, in five years, to boost income for 35,000 farmers.
Cold storage units will support Kenya's farmers 
About 90% of Kenya's agricultural produce comes from smallholders, who don't have the kind of cold storage solutions available to large-scale producers. This means lots of produce perishes in outside temperatures after being harvested.
"More than 30% of all food produced in the world for human consumption gets lost or wasted", said a representative from SokoFresh says. "Food loss in Africa occurs almost entirely in the production and distribution stages."
Farmers using the model can earn up to 50% more on their harvest, while buyers receive more and better quality produce.
The cost of logistics is also reduced, because trucks are picking up full loads that have been stored in the cold storage units by multiple farmers.
Enviu, the Netherlands-based impact venture organization behind SokoFresh, hopes to have a network of 400 cold storage units in the next five years. This would help 35,000 farmers, creating 3,000 new jobs in rural areas and reducing greenhouse gas emissions.
Sokofresh supports UN Sustainable Goal 12
Around 14% of food is lost after harvest on farms and at the transport, storage, processing and wholesale stages, according to the Food and Agriculture Organization of the United Nations. This food has a value of more than $400b a year.
UN Secretary-General António Guterres last year described food loss and waste as an "ethical outrage."
"In a world with enough food to feed all people, everywhere, 690 million people continue to go hungry and three billion cannot afford a healthy diet," he said.
By 2030, UN member states have pledged to halve food waste and reduce food loss as part of Sustainable Development Goal 12.
SokoFresh is a part of the solution to food security and ending food waste.