Small Giants insect protein snack secures funding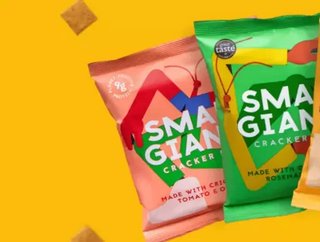 Insect-based snack startup, Small Giants, secures €470K of funding as market for sustainable snacks grows
Small Giants, a British foodtech startup has announced a new round of funding, totalling €470K, after an initial target of €295K. 
The startup, founded by Francesco Majno and Edoardo Imparato, received investment from shareholders and partners of iN3 Ventures' network.
Founded in London, in 2017, Small Giants is experimenting with insect-based protein. 
Small Giants, a mighty sustainable food source
The startups' crackers are made with 15% cricket flour, with flavours such as:
Turmeric and smoked paprika 

Rosemary and thyme
The crackers have a high nutritional value, including planet-positive protein, vitamin B12 and fibre. 
Food sector expands into insect protein 
The founders were thrilled with the target-busting funding. 
"We are excited for the closing of the round and, in particular, for the entry of investors linked to the iN3 Ventures network", said Edoardo Imparato, Co-Founder of Small Giants.
"It is fantastic to see that investors with great experience in the food sector believe in our project. Thanks also to their support, we will now be able to develop new products and support the expansion of Small Giants in both the UK and Europe."
Insect protein may be a shocking idea to many, but iN3 Ventures can smell the potential.
"iN3 Ventures started exploring the edible insects' trend months ago and Small Giants has everything is needed to be one of the leaders in this fast-growing market", said Andrea Crudeli of iN3 Ventures.