SK Group & Joyvio food partnership for alternative protein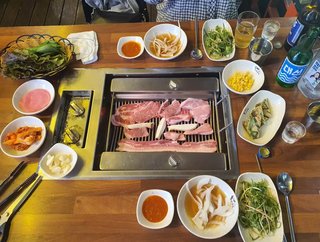 SK Group has begun a partnership with Joyvio, as consumers seek alternative sources of protein to meat, following the impact of Covid-19
Consumer fears over food hygiene and security following the Coronavirus pandemic have increased the worldwide demand for alternative sources of protein. 
SK Group has partnered with Joyvio Group, to tap into this new market.
Headquartered in Seoul, SK Group is South Korea's third-largest conglomerate, with a revenue of US$213bn. 
Established in China in 2012, Joyvio is the sole strategic investment platform for food & agribusiness of Legend Holdings, built to address food quality and safety concerns. With a revenue of US$698m, Joyvio Group has now become a well-recognised global food and agribusiness corporation. Following the pandemic, many have applauded its mission: 'Dedicated to serving customers with safe and high quality foods by integrating global resources and leveraging China advantages'. 
SK Inc and Joyvio aim to attract customers who want alternative protein 
SK Inc. (a part of SK Group) will create an investment fund worth about 100bn won/ US$86m with Joyvio, to invest in alternative protein manufacturing, to appeal to customers who want to reduce or remove meat from their diets.
Plant-based meats are usually comprised of:
Soy

Peas

Beans

Mushrooms

Mung beans

Wheat gluten
SK Inc and Joyvio to support food market through partnerships 
SK Inc. hopes to partner with other leading companies and investors to support Asian alternative food markets. 
"The sustainable future food market is a promising field that is expected to yield profound added value in the future and also has great environmental value", said Kim Moo-hwan, SK Inc.'s green Investment center head.
SK Inc. and Joyvio will also experiment with food tech, such as vertical farming and other food tech innovations which can optimise plant growth and modernise farming techniques.