Scottish startup ENOUGH raises €42m Series B for protein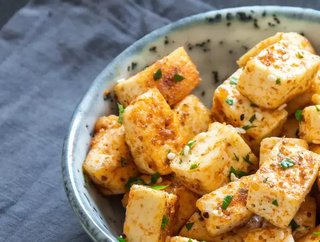 Making protein sustainable is a priority for the Scottish food-tech startup ENOUGH
Food tech start-up ENOUGH (formerly 3F BIO), which creates sustainable plant-based protein, has raised €42 million in Series B funding. ENOUGH produces a mycoprotein, ABUNDA, made from fermenting fungi.
Food tech brings sustainable protein 
The planet's population is growing and with it, the need for protein. The manufacturing of animal protein causes a high level of greenhouse gas emissions, unlike plant-based alternatives. 
ENOUGH aims to grow over a million tonnes of this fungi by 2032 which is the equivalent of replacing: 
Five million cows

Over one billion chickens 

Reducing more than six million tonnes of CO2 emissions, the equivalent of planting just under 30 million trees. 
The funding round was led by Nutreco, a global leader in animal nutrition and aqua feed and Olympic Investments Inc. along with new investors including AXA IM Alts through the AXA Impact Fund.
Existing investors CPT Capital and Scottish Enterprise are also participating and CPT Capital will remain the largest shareholder in the company.
Supporting sustainable food as the demand expands
"The market for delicious, nutritious vegan products is growing at a pace that requires a step change in the supply of sustainable ingredients", said Jim Laird, CEO of ENOUGH. 
"This will supercharge our focus which prioritises collaboration and B2B supply to maximise the pace of growth and reach into the market. We are privileged by support from investors who share our focus on making sustainable protein. As a longstanding dedicated investor in the alternative protein space, CPT Capital has unmatched experience investing in companies disrupting the food systems. We are delighted to strengthen the Board with the combination of expertise and impact focus from AXA IM Alts who have a long history of impact investment, Nutreco who provide strategic insights, and by HAL Investments who share our view regarding the need for scalable technologies and food products to cater for growth of alternative proteins and meat substitutes in decades to come."
"ENOUGH is an exciting business with real potential to transform protein production", said Rob Koremans Nutreco CEO. "This partnership perfectly supports our ambitions to accelerate the contribution we can make to the challenge of feeding a growing global population. If we are serious about meeting this objective in a sustainable way, we will need to produce protein from a variety of sources such as fermentation, which is very much a shared goal."
"We are excited to support ENOUGH in its mission to provide a scalable alternative to animal protein, which in turn contributes to the transition towards a more sustainable, climate-aligned food system", said Jonathan Dean, Head of Impact Investing at AXA IM Alts.