Reducing CO2 in catering with digital carbon labelling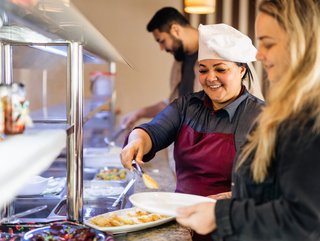 The digital carbon labelling system has achieved up to 16% in emissions reductions in just over 12 months
A UK-first, Dynamify has teamed up with Klimato to develop a digital carbon labelling system for the catering industry to dramatically reduce CO2 emissions
Launching a UK-first, food tech startup - Dynamify - has collaborated with sustainability software specialist - Klimato - to develop a digital carbon labelling system to enable the catering industry to dramatically reduce its carbon emissions.
Helping catering companies achieve 30% emissions reduction by 2025
In partnership with some of the largest financial institutions and pharmaceutical companies, organisations adopting the digital carbon labelling system has achieved up to 16% in emissions reductions in just over 12 months setting them on track to achieve 30% by 2025.
By utilising the digital carbon labelling system, Dynamify's clients - including Sodexo, Elior, Atalian, ISS, WSH, and CH&CO, as well as Fortune Global 500 companies and universities - can track, manage, and reduce their carbon footprint.
"In sites that Dynamify and Klimato are already operating within, we've seen a 23% reduction in their carbon footprint in just 18 months. Therefore, we're confident in our 30% carbon reduction forecast having combined the two services, thanks to rolling carbon labelling out to more ordering channels. The ongoing climate emergency, and events such as the record heat, have prompted more businesses to responsibly accelerate their march towards the UK's net zero target by 2050. By introducing digital carbon labelling, we expect food service providers and retailers to change their product offering as consumer awareness grows and as demand for more sustainable products increases," commented Maxwell Harding, Founder, of Dynamify.
A complete digital ordering platform
Offering a complete digital ordering platform, the integrated labelling tool from Klimato provides caterers with greater insight into their Scope 3 emissions including agricultural production, transportation, cooking, delivery, and waste.
By rolling the tool out across all ordering channels, catering companies can easily detect carbon hotspots and when changes need to be made. As such companies can remove back-of-house inefficiencies and make both informed and strategic decisions quicker.
Greater awareness for customers
The new tool is not only beneficial for the company but also for customers too. The tool generates more awareness for customers regarding their carbon footprint consumption and helps the public to bring down their own carbon footprint with educated choices.
Erik Olsen, Head of Growth and UK Country Manager, Klimato, concluded: "Our rapid success across Sweden and Europe has helped thousands of restaurants achieve an annual carbon reduction level that is well above the official UN recommendation. There is very strong demand from the UK catering industry for these same results as people become increasingly environmentally aware of the impact of the food they consume. The UK's food industry currently accounts for 35% of the country's greenhouse gas emissions, but we are confident that by this new partnership with Dynamify, we will be able to match the 10.9% carbon annual footprint reduction that we've achieved elsewhere."