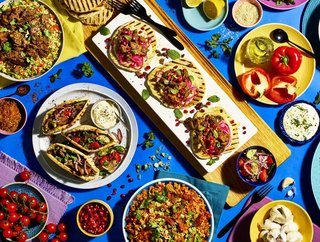 Food Digital takes a look at the proposal from Marco Bertacca, CEO at Quorn, which he will take to the Future Food-Tech Alternative Proteins Summit
Quorn, the plant-based protein company, is calling out for action regarding arable farming waste. The company's CEO, Marco Bertacca, wishes to collaborate with farmers to turn arable carbohydrate waste into proteins. In an effort to promote how the alternative protein industry can work with farmers, Bertacca will be discussing the issue at The Future Food-Tech Alternative Proteins Summit.
The company currently provides protein products to consumers who wish to eat a meat-free diet. The development of Quorn's products has become increasingly more popular as current businesses, and new start-ups turn their attention towards plant-based foods. Bertacca now wants to take the company's products further ethically, as he believes a research investment reduces on-farm waste. "This research would fit well within global objectives of ensuring a sustainable food future. With the right focus, collaboration and investment, a five-year horizon seems realistic," says Bertacca.
Sustainability With Food Technology
Bertacca believes this endeavour will help change mindsets around food and sustainability and believes that delving into this research could uncover a revolutionary food system. Bertacca explains his thoughts on the idea. "If we could find a way to ferment that carbohydrate and make mycoprotein, we would produce the same amount of protein that we'd get from 5 billion cows," says Bertacca. "The numbers are mind-blowing – that's three times more cows than there are on the planet now. So even if we could achieve a fraction of this, it would be a game-changer in reducing the carbon footprint created by food production."
Bertacca believes this project could have planetary implications and free up some of the world's habitable land, half of which the UN Food and Agricultural Organisation says is taken up by food production. "Therefore, food lies at the heart of tackling climate change and with food production accounting for over a quarter of global greenhouse gas emissions, we believe a big idea like creating protein from arable waste could put the world back on track to a more sustainable future for all," Bertacca says. "The way we produce and source our foods will dictate the future of this planet. But, unfortunately, our global food industry is currently on the wrong trajectory – it will be impossible to keep global temperatures at safe levels unless there is a transformation in the way we produce food and manage land."