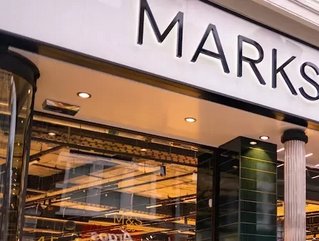 British retailer M&S has recently published its first book on food sustainability. But what has its sustainable journey looked like over the years?
Acclaimed brand and distinguished UK retailer Marks & Spencer has launched its first-ever children's book focusing on the importance and promotion of food sustainability. Titled Farm to Foodhall, The Magic Ingredient, the story aims to envelop a young audience in an adventure into agriculture and educate its readers in the world of sustainability and the importance of nurturing the future of food. 
The book hopes to draw attention not only to the value of understanding where and how food is sourced but also about the impact sustainable farming has on the environment, creating a knock-on effect going forward and inspiring a generation into being more mindful about the choices they make concerning food and working towards a greener future.
The launch of Farm to Foodhall, The Magic Ingredient, also forms part of the 'Fresh Market Update' campaign, which provides customers with the opportunity to see the scenes behind Selected Farms. M&S is endeavouring to prove its commitment to help tackle environmental challenges within the food industry as it showcases its innovative technology, reduction of pesticides, and sustainable use of water, as the company makes an effort to inspire other leading brands to do the same. 
M&S Food and being sustainably aware
In 2018, M&S Food acknowledged lacking the necessary innovation to keep up with its growing competition regarding sustainability and environmental focus. It conceded that its "outdated supply chain", "excessive waste", and "high operating costs" had taken a toll on profits. 
Three years on, the retail giant claims to have reduced dependency on short-term promotions and promotional participation by over 10%, with an increased focus on sustainability within the food industry. It also boasts being the world's first major retailer to become carbon neutral and committed to becoming a zero-waste business by 2025. 
Measures in place and targets being set
M&S are acutely aware of the impact its production and operations have on the environment as well as how important its processes are now considered to its customers and investors within the UK. 
The company's business emissions have been reduced by 75% over the course of 12 years, and 100% of the electricity it uses comes from renewable sources. M&S reports ongoing investigations into innovative solutions for heating, transport, and refrigeration and is active in its support offered to both its suppliers and customers to help reduce carbon footprints. 
In 2017, the UK retailer set a target to cut emissions by 90% by 2035 and has since adopted the use of technology to ensure levels of food waste are reduced dramatically through the launch of its app at the beginning of 2020. The app was also used throughout the Covid-19 pandemic, helping M&S stores to double their food redistribution rates resulting in an increase of food donations by 160%. 
In 2021, the UK retail giant now boasts 100% of its palm oil responsibly sourced, over 2,000 tonnes of plastic packaging removed from its products with alternatives found like foil or card, and around 2 million tonnes of carbon emissions offset since 2021.