LiquiGlide: Paving the Way to a Smoother Future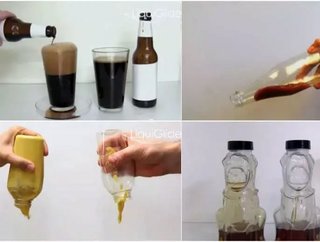 Packaging is a necessary and vital part of the food and beverage industry, but up to now its always been a part that has certain limitations: namely, th...
Packaging is a necessary and vital part of the food and beverage industry, but up to now it's always been a part that has certain limitations: namely, the product loss that inevitably occurs when a condiment or sauce is determined to stick to the sides of a jar, never to reach the plate. It's a dilemma we know all too well—the idea of banging on the bottom of a bottle in an attempt to coax out enough ketchup for your French fries isn't just well known, it's iconic.
But a new product breakthrough, LiquiGlide, might just render that situation a thing of the past. Developed by MIT professor Kripa Varanasi and graduate student Dave Smith, LiquiGlide is a nonstick "liquid impregnated" coating designed to keep surfaces permanently slick and slippery. According to Smith, the concept is a lot like oil on the surface of a frying pan.
RELATED TOPIC: Tetra Pak Introduces Innovative Sugar Cane Bottle Cap
"That's the same kind of slipperiness that our coating provides—only we can make that effect permanent whereas oil in a frying pan wears off after a time," says Smith, sitting down with Food Digital to explain the process. "The way that we make that permanent is by trapping the liquid in sort of a textured surface, which acts like a thin sponge on the surface. The liquid will get trapped in place through capillary forces, and the result of that is an extremely slippery surface, like oil on a frying pan that lasts much, much, much longer."
LiquiGlide was originally conceived as a solution for the gas and oil industry—but a few formula tweaks to suit different materials opens the product up as a viable solution for a world of industries, and the consumer packaged goods industry in particular has taken notice. Food waste—and the subsequent packaging waste that results from running out of a usable packaged product too soon—is a rampant problem facing the retail industry. A number of industry players are attempting to tackle this issue in their own ways, from improving storage and changing food displays in stores to developing more sustainable, biodegradable and lightweight packaging. LiquiGlide holds the potential to add to this conversation by ensuring that consumers are able to use every last drop of the products they buy.
"LiquiGlide can practically eliminate food waste where it's applied," says Smith. "Any sticky condiments like ketchup, mayonnaise, mustard, salad dressing—with all of these things, people usually throw away a good amount of the product. 5 to 10 percent of the product sometimes will get thrown away. That's a lot of waste that could be saved by using our coating."
RELATED TOPIC: France's new supermarket food waste law is drastic (and you should be taking notes) 
Of course there are always safety and health concerns when it comes to food packaging, especially products and formulas that would coat the inside of a bottle or can. But the mutable nature of LiquiGlide's formula promises a coating made with food safety and consumer health in mind. "We're very careful, and the brands we're working with are very careful," notes Smith, explaining that the company looks at materials that are already food ingredients, like vegetable oils, as the base for food-compatible coating.
Applications for LiquiGlide extend beyond consumer packaged goods, with potential throughout the food production supply chain from start to finish. "Anywhere you can think of a viscous liquid., there is a potential application for liquid impregnated surfaces," says Smith. LiquiGlide is also seeking out opportunities in the agriculture industry, allowing for better flow and reduced cost and water usage for acrochemicals like herbicides and pesticides, as well as applications in food manufacturing.
"Materials have to be pumped through pipes and tanks, and they stick to the equipment and need to be cleaned up from time to time—that cleaning takes a lot of time, a lot of labor, a lot of materials, cost, and a lot of water is used in the cleaning process," says Smith, relating LiquiGlide to the food processing and manufacturing industry. "There are a lot of benefits that LiquiGlide can provide from a cleaning and waste point of view. It also can allow for materials to be pumped through pipes with much less energy, as the products can easily slide through the pipes."
Even a bright idea with limitless potential can be lost without capital backing to propel that theoretical potential toward practical reality. This year, LiquiGlide reached a milestone in its history by achieving just that vote of confidence—in March, the product secured $7 million in funding from Roadmap Capital, a cash infusion allowing LiquiGlide Inc. to move into a state-of-the-art laboratory and take its growth to the next level.
RELATED TOPIC: Subway bolsters global growth with new ARYZTA cookie manufacturing plant in Germany
"We see the inherent value that LiquiGlide's technology can bring to the world – from saving consumers money to cutting manufacturing costs and even saving lives – and we confidently stand behind the company, which we truly believe is changing the way liquids move," said Stephen Ireland, Principal at Roadmap Capital, in a press release announcing the partnership.
This development paves the way for substantial growth, of which LiquiGlide is keenly aware. Potential partnerships are in the works with food brands, with the company hoping to make an official announcement by the end of the year, and introduction into manufacturing plants seems similar close at hand.
Living in a world where one can easily extract ketchup from a bottle will be a strange one, for a time. But it's a welcome one.