Infarm Develops Second Vertical Plant Growing Facility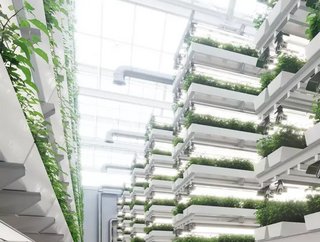 Infarm's commitment to reducing farmland and water consumption has led to a new contract, which will allow for a new vertical growing facility in the UK
Ever wondered what happens when nature and technology come together? You end up with a sustainable food growing system that targets some of the most prominent global concerns. The food technology company, Infarm, was developed to provide a solution to the global water shortage—resulting from excess water usage in farming—and the volume of food growing required for an increasing population. 
The German vertical farming start-up is working on a 9,760 square-metre vertical farming facility in the UK, which will primarily be used to grow herbs and salad vegetables to supply retailers in the greater London area and across Southern and Central UK. The aim of its vertical growing system—coupled with cloud technology—is to grow vegetables using minimal floor space and reduce straight on water supplies. 
Infarm has signed a contract for its second growing centre in Bedford, UK, where it plans to build a facility with 5,500 square metres of cloud-connected growing space. Each individual growing unit occupies 25 square metres of ground space and is 10 metres in height, allowing the new facility to produce up to 18 million plants per year—equivalent to 360,000 square metres of farmland.
Facing Up to Water Scarcity
According to the United Nations, the concerns of water scarcity continue to grow as 72% of all water withdrawals are used for agriculture, while the remaining water is used for household's and services (16%), and other industries (12%). Each Infarm growing centre is designed to save up to ten million litres of water per year, or the equivalent of a 95% reduction in water consumption compared to traditional growing methods. 
The company has appointed Pentadel, a project management company, which has incorporated rainwater harvesting into the design and management of the new site—expected to capture an additional 2.5 million litres of water per year. 
James Kemp, Managing Director of Pentadel commented on the new project. 'We are thrilled to be supporting Infarm with the delivery of this innovative facility that we believe represents the future of sustainable, scalable and resilient farming', says Kemp. 
'We are passionate about delivering projects just like this – projects that place the future of people and the planet at their heart – and I know the whole team is proud to play a part in Infarm's revolutionary story'.
'Infarm has a clear goal to expand in the UK market. Our second UK Growing Centre located in the 'golden triangle' allows us to significantly increase the amount of fresh produce grown year-round in the UK', says Jeremy Byfleet, UK Country Director at Infarm. 'The location of the facility enables us to serve 90% of the UK population within four hours, bringing the freshest plants just on time to our clients. Consequently, food mileage is substantially reduced'.