How Elon Musk's Tesla Energy breakthrough fits into the food industry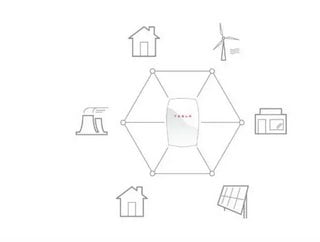 Today Tesla Motors mogul Elon Musk unveiled his latest entrepreneurial venture: Tesla Energy, a new line of batteries meant to power homes and businesse...
Today Tesla Motors mogul Elon Musk unveiled his latest entrepreneurial venture: Tesla Energy, a new line of batteries meant to power homes and businesses in very much the same way that batteries power a Tesla electric car. Suffice it to say, this could revolutionize the energy industry—which is exactly what Musk is going for, having reportedly stated at the Tesla Energy press briefing: "our goal is to fundamentally change the way the world uses energy." But that's not the only industry that Tesla Energy could be poised to change.
Much of the talk related to Elon Musk's Tesla Energy announcement has been focused on Powerwall, a line of wall-mounted 7kWh and 10kWh battery cells that store solar energy to power a residential home. But in addition to Tesla home batteries, the company also announced energy solutions for businesses and utilities.
"Based on the powertrain architecture and components of Tesla electric vehicles, Tesla energy storage systems deliver broad application compatibility and streamlined installation by integrating batteries, power electronics, thermal management and controls into a turn key system," reads the Tesla Energy press kit. "Tesla's energy storage allows businesses to capture the full potential of their facility's solar arrays by storing excess generation for later use and delivering solar power at all times. Business Storage anticipates and discharges stored power during a facility's times of highest usage, reducing the demand charge component of the energy bills."
It's an intriguing scenario, and there are already takers in the food and beverage world. The Tesla Energy page cites Jackson Family Wines (JFW) as an early adopter test case, using Tesla energy storage to mitigate energy use in the areas of the business that require the most energy consumption (refrigeration/cooling, lighting, compressed air and process water treatment). Food processing giant Cargill also announced that it is collaborating with Tesla Energy, installing an Energy Storage system at its Fresno beef plant in an effort to reduce its carbon footprint and reduce costs by storing solar energy to use during peak hours.
"We understand that while we produce nourishing protein for millions of people on the West Coast, it is important for us to do so as responsibly as possible," said Jon Nash, Cargill's beef plant general manager at Fresno, in a statement from Cargill. "Proper stewardship of the resources required to produce food is crucial to the ongoing success of our business and is important to current and future generations as the world's population increases from more than 7 billion people today to more than 9 billion in 2050."
The need to reduce carbon footprints is critical, especially for businesses as large and expansive as Cargill. There is also the issue of cost savings: Cargill is hoping to save as much as $100,000 annually with the new Tesla system, and that's at one production plant alone. If the system is successful and is implemented further at viable plants in sunny climates across the country, or even worldwide, those savings will only compound.
That's funding that could go into new technology, upgrades, research and development, further growth, new employees, or even a reduction in food costs. The possibilities are promising any way you slice them, for Cargill and any other food processors who make the decision to follow suit.