Hershey Partners Land O'Lakes For Sustainable Dairy Farming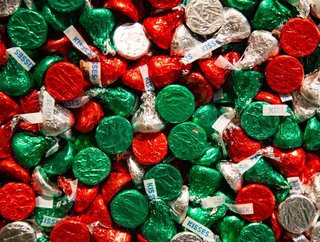 Hershey and Land O'Lakes go above and beyond to make a difference in the dairy industry contribute to sustainability initiatives
Hershey is a proud contributor to sustainability in the food industry. To develop its strategies for responsible production, the company has teamed up with Land O'Lakes, a producer of dairy products, to reduce greenhouse gas emissions and improve water quality.
Land O'Lakes represents over 1,600 farms across the US, which are responsible for 12.5 billion pounds of annual milk production. Needless to say, the company has a significant influence on the industry and how it approaches responsible dairy production. There is a strong emphasis on emissions and water conservation in the industry. 
According to the World Wildlife Fund, the dairy industry contributes to 2% of the total amount of greenhouse gas emissions produced in the United States. WWF also stated that for one gallon of milk to be produced, 144 gallons of water is used - most of the water is used to irrigate the crops that go into feeding the cows. A study by the University of Minnesota shows that air pollution from dairy production contributes to more deaths than poultry and egg production - dairy production results in around 1,800 deaths per year. 
Making Dairy Sustainable 
The Sustainable Dairy PA initiative will see both companies contributing towards reducing emissions at Pennsylvania dairy farms and improving water quality at the Chesapeake Bay. The initiative will support agricultural conservation at 119 Land O'Lakes member dairy farms, which ship at least half of their milk to Hershey. 
The initiative will be supported by US$300,000 of initial funding from Hershey and could potentially expand its practices to support over 400 farms as more funding becomes available. The Alliance for the Chesapeake Bay will source more grants to allow dairy farms to carry out more emissions reduction and water protection tasks in the region. 
In March, Land O'Lakes announced that all members would undergo on-farm sustainability assessments by 2025. The company kickstarted the process earlier this year through data collection, which measures more than 250 sustainability attributes at each farm - including measurement of manure use, nutrient application, crop rotation, and fuel, electricity and water usage.
Hershey also states that the milk for its candy products comes from dairy farms within a 100-mile radius of its factories in Pennsylvania, as a further addition to its sustainability strategy.