The Future of Logistics with Walmart's New WAVE Concept Truck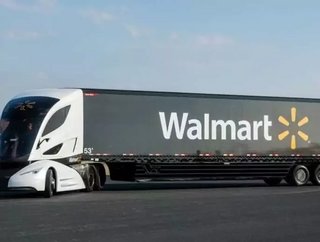 With nearly five thousand locations across the United States, Walmarts logistics system has a lot of ground to cover every day. Fleet efficiency is para...
With nearly five thousand locations across the United States, Walmart's logistics system has a lot of ground to cover every day. Fleet efficiency is paramount, and the pressure to improve is constant. When a deadline is put in place to double fleet efficiency by 2015, compared to efficiency levels in 2005, that pressure is turned up – that's not an easy feat for anyone, let alone the largest fleet operator in the country.
But there's a lot to be said for the kind of innovation creativity that can be born out of such pressure. At the 2014 Mid-America Trucking Show (MATS) in Louisville, KY, Walmart unveiled its latest achievement in fleet logistics engineering and innovation: the Walmart Advanced Vehicle Experience, or WAVE. Built in conjunction with several of Walmart's suppliers, the fuel efficient hybrid prototype semi was built with the aim of goal of taking the brand's fleet capabilities and efficiency levels to the next level.
When it comes to vehicles built for long haul distribution purposes, perhaps the trickiest part of presenting anything electric or hybrid related is overcoming the concern that electric vehicles tend to not go as far as their conventional counterparts. The WAVE overcomes that notion through a compact and fuel-neutral Range Extender generator microturbine from Capstone Turbine Corporation, giving the truck the ability to run on a range of power settings including pure electricity in urban areas where speed is not a factor.
Beyond being an obvious boon to Walmart's distribution center, a successful launch of WAVE trucks would prove to other businesses and logistics operations that using hybrid vehicles for long range distribution is actually achievable. Once someone has done it first, and done it well, it could trigger a radical change in the way that semi trailer trucks are built in the future – that's the hope for Walmart as well as Capstone.
"We developed this microturbine hybrid electric drive system by assembling the best team of technology leaders in the industry," says Steve Gillette, director of business development for Capstone. "We look forward to the day when these energy-saving features are standard offers for the market."
True to nearly all car show-worthy concept vehicles, the WAVE also looks pretty intense compared to today's 18-wheelers. Unlike today's average semi, which is dominated in the front by the upfront position of its engine, the WAVE carries its hybrid powertrain underneath the cab, allowing for a smooth and sleek design like a bullet train. But that silhouette isn't just an aesthetic choice: designed by Roush Engineering, using computational fluid dynamics (CFD) analysis, the shape of the WAVE semi reduces aerodynamic drag by 20 percent compared to the trucks that currently make up its fleet.
"We work every day with customers from the automotive and aerospace industries, all of whom have a laser focus on maximizing efficiencies through improved aerodynamics," says Tom Topper, Roush's executive director of prototype services. "This design is revolutionary and truly world class."
Meanwhile the trailer, manufactured by Great Dane Trailers, is built almost entirely of carbon fiber in a move which cuts 4,000 lbs off its weight compared to conventional trailers. This both aids in the WAVE's aerodynamic nature and helps enormously in cutting fuel costs by eliminating further drag.
At this point, an obvious question might be: when will the Walmart Advanced Vehicle Experience hit the roads? Well, unfortunately, not just yet. The WAVE was introduced as a concept vehicle for a reason – according to Walmart's distribution team, this truck is already twenty years in the making and will require further tweaks before it's road-ready. 
"Walmart is continually looking for innovative ways to increase our efficiencies and reduce our fleet's emissions," says Tracy Rosser, Senior Vice President of Transportation at Walmart. "The Walmart Advanced Vehicle Experience is a bold step in transportation technologies that, although not on the road in its current form, will serve as a learning platform for the future that will accelerate our progress toward our goals."
Presenting the WAVE concept to the public will help drive the Walmart brand – and perhaps other brands as well – push harder toward achieving efficiency goals. Even if this concept in particular isn't coming to the roads, the feasibility of its technology means that, at the very least, components of it are not far from the mainstream.
"Like the concept cars you see at auto shows, this prototype will evolve before it's ready for the road," says Elizabeth Fretheim, Director of Business Strategy & Sustainability at Walmart. "But it's exciting to think about how any one of the new features might become an industry standard in the future. The important thing is that we find incremental improvements while also challenging ourselves to look at fleet efficiency in new and different ways."