$10m grant to support the dairy industry decrease emissions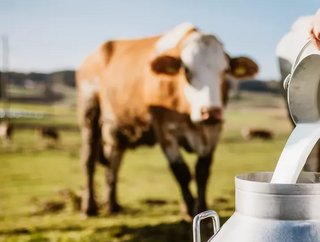 The dairy industry is responsible for high levels of greenhouse gas emissions and is looking for sustainable options. A grant supported by Nestle may help
Agriculture generates roughly 10% of global greenhouse gas (GHG) emissions and dairy farmers are facing increasing pressure to reduce this number.
Additional research is needed to determine the impact of certain environmental practices, which could help offset the dairy industry's carbon footprint - or continue to cause high levels of pollution.
Thus, the Foundation for Food & Agriculture Research (FFAR) has awarded a $10m grant to the Dairy Research Institute (DRI) to support the dairy community's Net Zero Initiative, an industry-wide effort to:
Implement practices and technologies that reduce greenhouse gas emissions 

Improve the overall health of the environment 
Enhancing the dairy industry's sustainability, to benefit farmers
FFAR was established in the 2014 Farm Bill, to increase public agriculture research investments. Through collaboration and partnerships, FFAR advances actionable science benefiting farmers, consumers and the environment.
FFAR's six-year grant is addressing research gaps in feed production and manure-based products that enhance the dairy industry's sustainability goals. 
Dairy Management Inc. (DMI), Newtrient and other Net Zero Initiative partners, including Nestlé, are providing funding and in-kind support for a total project value of $23m.
"Supporting and enabling farmers through the Net Zero Initiative has the potential to transform the dairy industry," said Jim Wells, chief supply chain officer for Nestlé USA. "Scaling up climate-smart agricultural initiatives is key to Nestlé's ambition to achieve net zero greenhouse gas emissions by 2050 and will help reduce the carbon footprint of many of our brands. We are excited to collaborate with the U.S. dairy industry and our suppliers to contribute to an even more sustainable dairy supply chain."
The science of soil and its impact on dairy 
DMI scientists are helping to expand a soil health database to determine how soil characteristics vary in response to field management practices, across different US regions where dairy operations are concentrated.
"We expect to develop critical insights that link soil health outcomes, such as carbon sequestration, with practice and technology adoption", said Dr. Jim Wallace, senior vice president of environmental research for DMI. "This will provide important background information to support the development of new carbon and water quality markets."